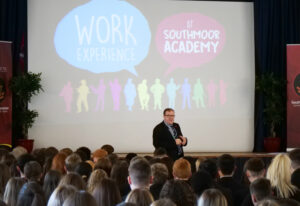 Last Tuesday, Mr Wareham launched this year's work experience programme for Year 10 students. In June, all students in Year 10 have the opportunity to complete a week's work placement with an organisation to gain experience in the world of work and prepare them for the future. During the assembly, Mr Wareham introduced students to the purpose of the Work Experience week and how to look for suitable placements.
Students will be expected to find their own placements, although the Careers Team in school will be sourcing a number of placements and will advertise these in PD lessons and via Class Charts. For the first time this year, we will be using our new Unifrog careers platform to manage the whole process. Students will be expected to enter details into Unifrog when they have found a placement, which will then launch the process automatically.
Parents will receive an email in due course to fill in a simple online form to give permission for students to attend this placement. We ask that all parents keep an eye on their emails for an email leading up to the placement week. More details about the process can be found in this letter which was also given to students on Tuesday.