Keeping Children Safe Online
Whilst there are huge benefits to being online in order to stay connected to family and friends during this period, the government recognises many parents may feel concerned about the activities and content their children are accessing. This guidance outlines resources to help keep children safe from different risks online and where to go to receive support and advice.
What You Can Do as a Parent
Are you aware of the dangers your children may face when they are online?
How much can you do to protect them?
As a parent or carer you play a key role in helping your child to stay safe online.
You don't need to be an expert on the internet to help keep your child stay safe online. The below advice and resources are here to support you as you support your child to use the internet safely, responsibility and positively. These are important skills to pass on, being savvy about internet safety serves us well into adulthood and stops us being exploited, manipulated or disaffected online.
Keep them Safe Online
It is important to have regular conversations about staying safe online and to encourage children to speak to you if they come across something worrying online.
These resources provide guidance for parents and carers to keep children safe online. They will, amongst other things, support you to talk to your child about a range of online safety issues, set up home filtering in a child-friendly way and set up age-appropriate parental controls on digital devices:
What harms might my child experience online?
You may have concerns about specific harms which children can experience online. There are more resources to help you understand and protect your child from different harms online, including:
Click the links above to jump to the section on this page for more help and advice.
Child Abuse
If you are concerned call 999 or report it to the National Crime Agency-CEOP.
If your child has been a victim of child sexual abuse – online or offline – and you believe they are in immediate danger, you should call 999 and ask for the police. The police will continue to respond to emergency calls.
If you are concerned that your child has been a victim of online sexual abuse or you are worried about the way someone has been communicating with your child online, you can report it to National Crime Agency-CEOP (Child Exploitation and Online Protection).
These resources provide information and support for parents and carers on what to do if you're worried about child sexual abuse:
Radicalising Content
If you are concerned that any family member, friend or loved one is being radicalised, you can call the police or 101 to get advice or make a Prevent referral, so that they can get safeguarding support. Support is tailored to the individual's needs and works in a similar way to safeguarding processes designed to protect people from gangs, drug abuse and physical and sexual exploitation. Receiving support through Prevent is voluntary, confidential and not any form of criminal sanction. If you need further help, you can also contact your local authority safeguarding team.
Educate Against Hate Parents' Hub provides resources and government advice for parents and carers on keeping young people safe from extremism, including online.
Let's Talk About It provides support for parents and carers to keep children safe from online radicalisation.
Any member of the public can report terrorist content they find online through the GOV.UK referral tool. More information about what to report and what happens when you make a report can be found on the Action Counters Terrorism campaign.
In addition, you can refer to this booklet with regard to keeping children safe from exploitation involving gangs and drug trafficking.
'Sexting' (youth-produced sexual imagery)
If you are worried about your child sending nude images or videos (sometimes referred to as 'youth-produced sexual imagery'or sexting), NSPCC provides advice to help you understand the risks and support your child.
If your child has shared nude images, Thinkuknow by National Crime Agency-CEOP provides advice on talking to your child and where to get help.
Cyberbullying
If you are concerned about cyberbullying, you can find government advice and information about how you can protect your child and tackle it if it happens.
Age Inappropriate Content
Age-inappropriate Content and Parental Controls
If you have downloaded new apps or bought new technology to help stay connected at this time, remember to review and adjust privacy and safety settings if you or your child is signing up to a new online service.
Internet Matters has provided step-by-step guides on how to set up parental controls so that you can control what content your child can access online.
The UK Safer Internet Centre has developed guidance on how to switch on family-friendly filters to prevent age-inappropriate content being accessed on devices in your home.
The NSPCC provides more information for parents or carers with concerns about their child seeking inappropriate or explicit content online.
Apps to Help children Stay Safe Online
The BBC have a website and app called Own It. The website has a lot of content for children to help them navigate their online lives, and the free smartphone app comes with a special keyboard which can intervene with help and support in the moments that children need it the most. It can be downloaded for free in the Google Play Store and Apple App Store.
SafeToNet is an app for parents to help them safeguard their children from online risks like cyberbullying and sexting, whilst respecting their child's rights to privacy. T
Suicide Content
If you are worried about your child's mental health, the government has published guidance for parents and carers on supporting children and young people's mental health and wellbeing during the coronavirus (COVID-19) outbreak.
There is also support and advice available through the NHS Ever Mind Matters website.
If you are worried that someone you know is suicidal, including your child, Samaritans provides advice on how you can support others.
Support for Children
If your child is worried or needs support, they can receive advice and support from Childline (0800 1111) or download the 'For Me' app.
If you need help to support your child's mental wellbeing, this list of online education resources for home education includes mental wellbeing resources which provide guidance on how to support the wellbeing of children and young people.
Additional Advice for Parents and Carers
We understand there may be more concern from parents about the safety of their children online. It is important for children and young people to stay both connected and safe online. Remember to make use of parental controls and to talk with your children.
Make use of parental controls
If you have downloaded new apps or bought new devices like web cams or tablets, remember to adjust the privacy and security settings to suit you.
There is technology to help you manage the content your children can access:
Government has encouraged Internet Service Providers to help parents easily filter content. Switch on family friendly filters to help prevent age inappropriate content being accessed on devices in your home.
Parental controls put you in control of what your child can see. Internet Matters has step by step guides on how to set these up.
If you are concerned or upset about something your child has seen online:
Seek support from the online platform using the report function on the app or website – you can often find these in the 'help' section or 'settings' or seek support from other organisations and helplines.
The UK Safer Internet Centre offers a service, Report Harmful Content, which you can use if you are not satisfied with the result of a report.
Have a conversation with your child about staying safe online
Most children have a positive experience online, accessing educational resources and entertainment and connecting with friends and family.
Spending time online can be very beneficial for children, particularly at the moment, but we recognise that many parents may worry about online safety.
Reduce the risk. The UK Council for Internet Safety has guidance on minimising children's exposure to risks online. The UK Safer Internet Centre with Childnet International has specific guidance on under 5s.
Talk to your child. Childnet has guidance for parents and carers to begin a conversation about online safety and Ditch the Label teacher resources that can be helpful for parents to discuss cyberbullying and the government also has helpful advice. Encourage your child to speak to you or a trusted adult if they come across content that makes them uncomfortable.
Not sure where to begin? These conversation starter suggestions can help:
Ask your children to tell you about the sites they like to visit and what they enjoy doing online.
Ask them about how they stay safe online. What tips do they have for you, and where did they learn them? What is OK and not OK to share?
Ask them if they know where to go for help, where to find the safety advice, privacy settings and how to report or block on the services they use.
Encourage them to help someone! Perhaps they can show you how to do something better online or they might have a friend who would benefit from their help and support.
Think about how you each use the internet. What more could you do to use the internet together? Are there activities that you could enjoy as a family?
If you have concerns about specific serious harms, this guidance outlines how to protect your child from child sexual abuse online, 'sexting' or radicalising, pornographic or suicide content.
Help your child to think critically
We can help protect our children by teaching them 'critical thinking skills' – a way of thinking that helps them spot potential harm and work out what to do.
Critical thinking empowers children because they can take what they know and adapt it to new situations or to solve problems that may emerge.
It helps them identify risks, which may protect them from different forms of threats and ultimately harm. Parent Zone's guide and Childnet's advice and top tips provides ways for parents and carers to help their child develop these skills.
Stay safe and healthy
You may be concerned about how long your children are using their devices. The UK's Chief Medical Officer has provided advice on screen time. Here are a few of the tips to help your children strike a balance:
Sleep matters Getting enough good quality sleep is very important. Leave phones outside the bedroom when it is bedtime.
Sharing sensibly Talk about sharing photos and information online and how photos and words are sometimes manipulated. Parents and carers should never assume that children are happy for their photos to be shared. For everyone – when in doubt, don't upload!
Talking helps Talk with children about using screens and what they are watching. A change in behaviour can be a sign they are distressed – make sure they know they can always speak to you or another responsible adult if they feel uncomfortable with screen or social media use.
Keep moving! Everyone should take a break after a couple of hours sitting or lying down using a screen. It's good to get up and move about a bit. #sitlessmovemore
Family time together Screen-free meal times are a good idea – you can enjoy face-to-face conversation, with adults giving their full attention to children.
Use helpful phone features Some devices and platforms have special features – try using these features to keep track of how much time you (and with their permission, your children) spend looking at screens or on social media.
Remember you are allowed to leave your house for one form of exercise a day, and you can do this with members of your household as a family activity.
Useful links
Organisation
Link
Ask About Games
Askaboutgames provides a range of advice on how to stay safe online. It also features advice about finding balance during COVID-19.
Ditch the Label
Ditch the Label's Coronavirus support hub provides a range of support and resources for young people.
SafeToNet
The SafeToNet app helps educate children "in-the-moment" by providing real time detection of harmful or concerning content that they may be sharing.
BBC Own It App
The

BBC Own It app

helps children stop and think before they press the 'send' button.
Childnet
A tool kit to support parents and carers of any age child to start discussions about their online life, to set boundaries around online behaviour and technology use, and to find out where to get more help and support.
CTIRU
You can report terrorist content they find online through the public referral tool. More information about what to report and what happens when you make a report.
Every Mind Matters
Advice and simple tips on how to maintain your mental wellbeing if you need to stay at home during the coronavirus outbreak.
Internet Matters
Internet Matters has created a #staysafestayhome hub. The hub has information about setting devices up safely, age appropriate conversations to have and resources to support families' wellbeing.
Let's Talk About It
Support for parents and carers to keep children safe from online radicalisation.
LGfL
Support for parents and carers to keep their

children safe online

, including 6 top tips to keep primary aged children safe online.
Net-aware
Support for parents and carers from NSPCC, providing a guide to social networks, apps and games.
Parent Info
Provides support and guidance for parents from leading experts and organisations.
Rise Above
Public Health England's Rise Above social marketing programme aims to help build resilience and support good mental health of young people aged 10-16.
Thinkuknow
Provides advice from the National Crime Agency (NCA) to stay safe online. To help families manage during this time, the NCA has launched #OnlineSafetyAtHome, a set of fun, engaging activities based on Thinkuknow cartoons, films, games, and advice articles.
UK Council for Internet Safety 
Education for a Connect World. A framework to equip children and young people for digital life.
Other useful resources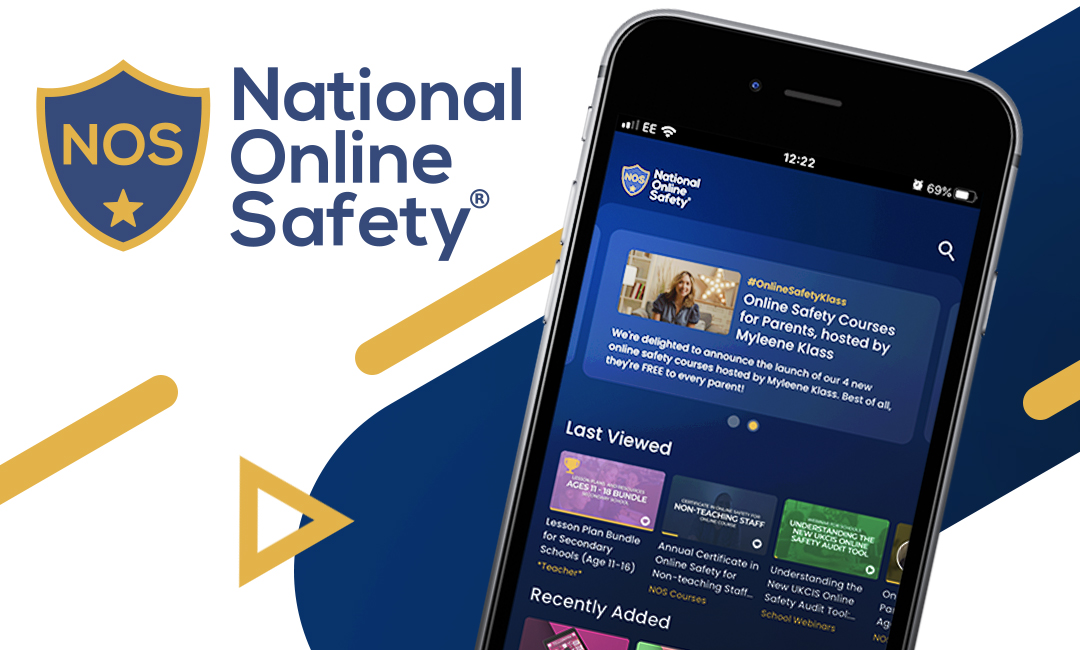 Children are spending more time than ever online. We need to do everything we can to keep them safe in the digital world but with new apps, games and platforms emerging every day, how can you stay in the know?
We recommend the new National Online Safety mobile application. With all online safety knowledge available at your fingertips, the NOS app empowers parents and teachers to understand and address online safeguarding risks – any time, anywhere.
As the world's most comprehensive online safety app, it's packed with insightful courses, explainer  videos, webinars and guides on topics that will help you protect your children when they are online.
You can get the App for free at the app store.
Parental Wellbeing Support