Click here to read our Careers Strategy for 2019 – 2022
Click here to read our Careers Improvement Plan 2022 – 2023
Click here to read our Careers Improvement Plan 2023 – 2024
We have developed a broad and varied careers curriculum for students across all year groups. The aim is to create an atmosphere of awareness on career options from Year 7 forward, with an increasing focus on paths and further outcomes as our students enter their final Year at the Academy. A details table of what is offered for each keystage group and when can be found below.
Rationale
Southmoor Academy has a critical role to play in preparing our young people for the next stage of their education or training and beyond.
A young person's career is their pathway through learning and work and we recognise that effective careers guidance contributes to raising aspirations, improving motivation and overcoming barriers to success and we are committed to achieving the inspiring IAG award
We have high expectations for all of our students, including for our most vulnerable and those with special educational needs and disabilities, so that every student is challenged appropriately and acquires the knowledge, skills and attitudes for lifelong learning which employers value. This will help every young person to realise their potential and enhance their employability.
Our Vision
To prepare students for the ever changing opportunities, responsibilities and experiences of adult life and equip them with the skills to manage the choices, changes and transitions ahead of them
To help students develop a positive self-image, increase self-confidence and raise personal aspirations
To ensure that all students  have an equal opportunity to develop the necessary skills, knowledge and awareness of the working world so that they are equipped with the ability to follow an individual chosen route to further education and employment in a career choice, which matches their aspirations in relation to their ability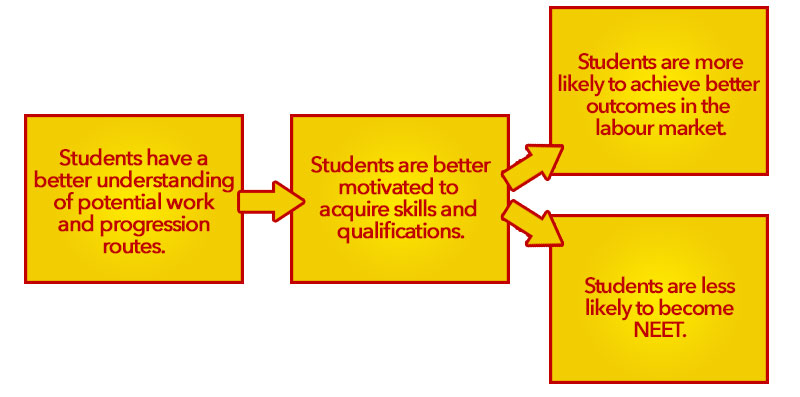 Inspiring IAG Quality Award Code of Practice

Southmoor Academy has achieved the Inspiring IAG Quality in Careers Standard "fully meeting the standard" incorporating meeting the Gatsby Benchmarks in July 2020. We were successful in maintaining this award for a further 3 years after our re-accreditation in July 2023. The aim of the Award is to

Ensure young people get the support they need to make well informed, realistic decisions about their future through careers education, information, advice and guidance.
Have appropriate, up to date, accurate and impartial information and resources that all young people can access regardless of race, gender, religion, ability, disability, social background or sexual orientation.
Ensure the organisational policies relating to careers education, information, advice and guidance (CEIAG) are up to date and regularly reviewed and reflect this code of practice.
Empower young people by informing them of how they can access CEIAG to help them plan their future and make well informed, realistic decisions.
Provide young people from year 8 onwards access to impartial professionally qualified careers guidance[1] and ensure formal regular assessment arrangements are carried out of the guidance practitioner, by appropriately qualified[2] senior staff to determine ongoing competency.
Offer all young people access to impartial and independent[3] careers guidance[4], at a time and place that suits their needs.
Ensure that all staff working with young people are offered and access ongoing training about qualifications/progression pathways and other relevant subjects and that there is a formal system in place to ensure the competency of all staff in delivering CEIAG.
Work in partnership, where appropriate, with opportunity providers including employers, FE and training providers, and youth support services.
Working with parents/carers to offer them information, advice and guidance to help them, help their son/daughter.
Involve young people in the design, delivery and evaluation of CEIAG programmes.
Promote equality of opportunity, celebrating diversity, challenging stereotypes and raising aspirations

The Gatsby Benchmarks

In line with the most recent careers guidance strategy (January 2023), our careers plan supports the achievement of the eight Gatsby benchmarks:

Benchmark 1: A stable careers programme

Every school and college should have an embedded programme of career education and guidance that is known and understood by students, parents, teachers, governors and employers.

Benchmark 2: Learning from career and labour market information

Every student and their parents should have access to good quality information about future study options and labour market opportunities. They will need the support of an informed adviser to make the best use of available information

Benchmark 3: Addressing the needs of each student

Students have different career guidance needs at different stages. Opportunities for advice and support need to be tailored to the needs of each student. A school's careers programme should embed equality and diversity considerations throughout.

Benchmark 4: Linking curriculum learning to careers

All teachers should link curriculum learning with careers. STEM subject teachers should highlight the relevance of STEM subjects for a wide range of careers paths.

Benchmark 5: Encounters with employers and employees

Every student should have multiple opportunities to learn from employers about work, employment and the skills that are valued in the workplace. This can be through a range of enrichment activities including visiting speakers, mentoring and enterprise schemes.

Benchmark 6: Experiences of workplaces

Every student should have first-hand experience of the workplace through work visits, work shadowing, and/or work experience to help their exploration of career opportunities, and expand their networks.

Benchmark 7: Encounters with further and higher education

All students should understand the full range of learning opportunities that are available to them. This includes both academic and vocational routes and learning in schools, colleges, universities and in the workplace.

Benchmark 8: Personal guidance

Every student should have opportunities for guidance interviews with a careers adviser, who could be internal (a member of school staff) or external, provided they are trained to an appropriate level. These should be available whenever significant study or career choices are being made. They should be expected for all students but should be timed to meet their individual needs.
Principles
CEIAG at Southmoor has four essential and interlinked elements:
Careers education-planned programmes in the curriculum (Personal Development time) and planned cross-curricular opportunities, giving students the knowledge and skills to help them make informed decisions, plan and manage their own careers.
Careers information- including options, employability skills, labour market information (LMI) and progression routes.
Careers advice and guidance- Level 6 qualified specialist advisor helping students to identify future goals and plan the steps to achieve these career goals.
Work related learning – experiences in/outside the curriculum to help students learn about economic well-being, careers and enterprise
Aims
The CEIAG programme is based on the core aims of the CDI Framework for Careers, Employability and Enterprise Education 7-19, 2021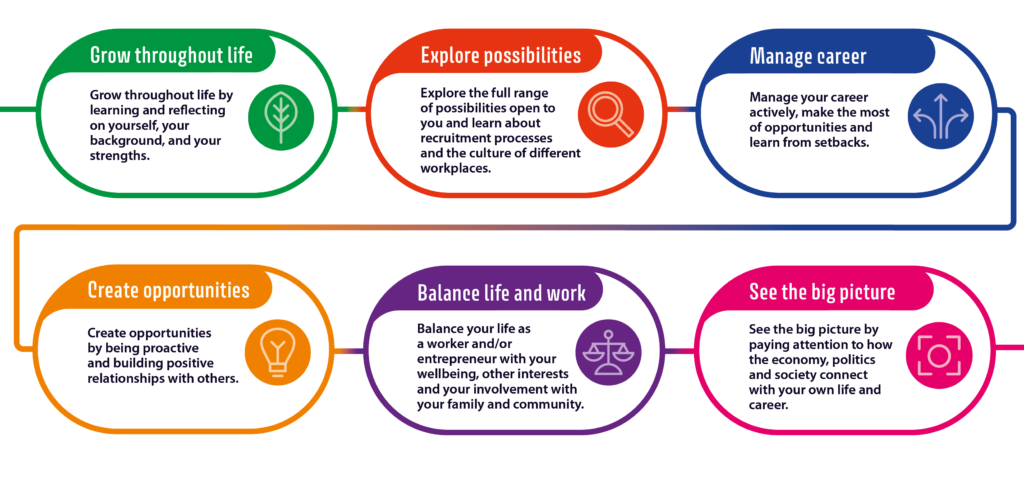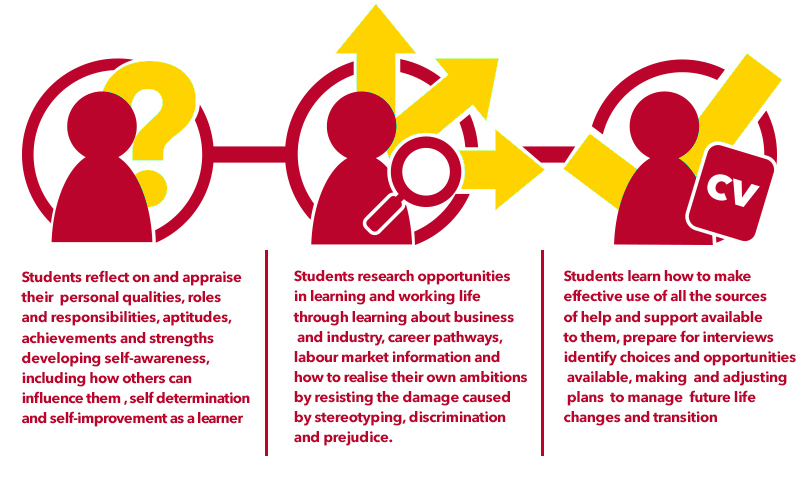 Monitoring and Evaluation
Our Careers Programme is continuously evaluated and monitored through the following methods:
Compass report completed termly to show progress towards achieving Gatsby Benchmarks
Completion of Quality in Careers Standard award annual reviews
3 year analysis of pupil destinations post-16 and post-18
Pupil, staff and parent voice
Termly meeting with link school governor/Enterprise Advisor and Enterprise Coordinator at the North East LEP
Surveys and evaluations completed after Careers events and activities
Destination Measures
2021-2022 School Data/Activity Survey
Key stage 4

Key stage 4 2021/22 leavers – destination measures (activity in the year following key stage 4 completion)
Number
Percentage
Number of pupils
219
 
Pupils in education
200
91%
Further education college or other further education provider
81
41%
School sixth form – state funded
113
57%
Sixth-form college – state funded
0
0%
Other education destinations
6
2%
Pupils in apprenticeships
19
9%
Pupils not captured in education or apprenticeships / NEET
0
0%
16-18 school summary

Students who reached the end of 16 to 18 study in 2021/22 – destination measures (activity in the year following 16 to 18 institution attendance)
Approved qualifications
Number
Percentage
Number of students
91
 
Students in education
69
76%
Higher education
69
76%
Students in apprenticeships
12
13%
Students in employment
7
8%
Students not captured in education, apprenticeships or employment / NEET
3
3%
2020-2021 School Data/Activity Survey
Key stage 4 school summary

Key stage 4 2020/21 leavers – destination measures (activity in the year following key stage 4 completion)
Number
Percentage
Number of pupils
202
 
Pupils in education
187
93%
Further education college or other further education provider
92
49%
School sixth form – state funded
86
46%
Sixth-form college – state funded
0
0%
Other education destinations
8
5%
Pupils in apprenticeships
9
4%
Pupils not captured in education or apprenticeships /NEET
6
3%
16-18 school summary

Students who reached the end of 16 to 18 study in 2020/21 – destination measures (activity in the year following 16 to 18 institution attendance)
Approved qualifications
Number
Percentage
Number of students
110
 
Students in education
96
87%
Higher education
91
95%
Other education destinations
5
5%
Students in apprenticeships
4
4%
Students in employment
5
5%
Students not captured in education, apprenticeships or employment / NEET
5
4%