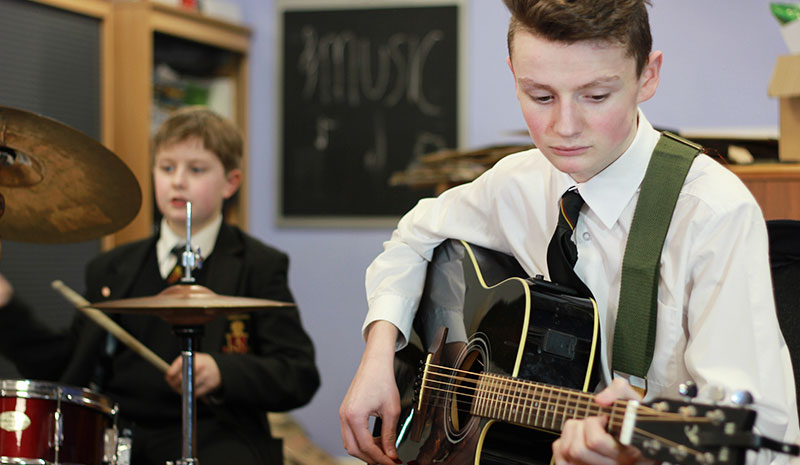 Southmoor Academy has a wide variety of clubs that anyone can join and take part in as an extra curricular activity.
Throughout the academic there will be additional extra-curricular activities, clubs and events available. You can view the full program of what is happening when and where at the start of each day during form time.
For a concise idea of all that we offer this term, please view our 'Enrichment at Southmoor Booklet below for more information on what our young people can get involved in!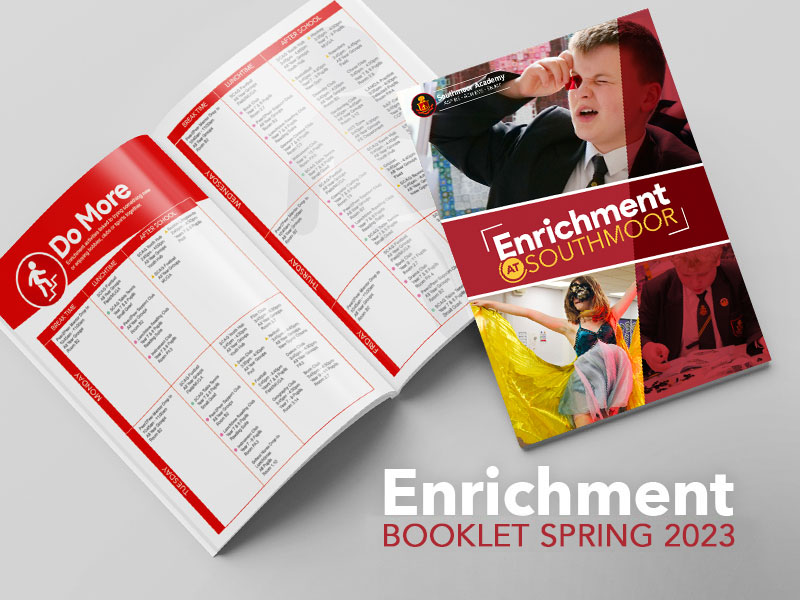 Enrichment and Achievements
English, Literacy & Reading
English
KS4 and KS5 book club
National Teen Book Club every Tuesday after school for 45-60 minutes for KS4 and KS5.
National book club for pupils over fourteen years of age to discuss one text at a time as an interactive group via Google Classroom. The forum allows pupils to meet a different author and have a Q and A. Pupils then use the chosen text as inspiration for creative writing which they submit in the hope of winning professional feedback and having their work published in a virtual library.
Literacy and Reading
Punctuation Roadshow for Year 7 and 8 pupils.
Creative Writing competitions for 'Young Writers' – national competitions for students across KS3, KS4 and KS5 to compose their own poetry and prose to a prescribed theme every 2-3 months with the aim of getting their work published in a book available for purchase. Bigger prizes also include monetary winnings, trophies, certificates, and bookmarks.
Halloween creative writing competition
Book Buzz – free book giveaway for all Year 7s and 8s
Summer readathon
Free book giveaway for primary feeder school pupils (Summer Term)
The BIG book give-away to Year 10 (Summer term)
International Poetry Day
World Book Day 2022 with book tokens for Years 7-10(weeklong programme promoting the diversity of literature and embracing a love of all thing literature in English lessons)
Termly visits to the Reading Suite for Years 7 and 8 – maintain book lending as a matter of routine
Early Morning Reading for Year 7 and 8.
Lexia Reading Club
International Children's fiction day
Visits to Waterstones to help select new books for the library.
Borrow from the virtual library
Recommended reading lists
Maths and Numeracy
UKMT Maths challenge (Year 7/8)
UKMT team event (Year 8/9)
MANGA HIGH maths challenge (Years 7-10)
GCSE Maths Masterclasses (Year 11)
Year 11 GCSE to A level transition
AMSP online student maths events (Y7-13)
Inspiring Girls in Mathematics
GNMH 'Playing for Real' (Years 9/10)
Careers in Mathematics week
Science
KS3 Science club
British Science Week, themed lessons run throughout the whole week in March 2022 for all year groups
Women in Science and engineering week – focussed scientist of the day for the week focussing on women who had made great advances across all fields of science.
Newcastle University Marine Biology external visit for KS3
STEM enterprise soapbox
Dyson design challenge
Living eggs – chicks project
Mars challenge in collaboration with Art
Year 11 GCSE to A level transition for Biology, Chemistry and Physics
Medical Mavericks
Careers in Science week
BSW "Growth competition" for years 7 and 8
Big Bang digital 2021 and Big Bang live event 2022
The Linnean society of special species competition
Bright ideas challenge – Pupil Callum Reid was the winner for the North East region in 2020, winning £2500 for the school.
STEM
The Science Department holds a weekly STEM Club for Year 7 pupils
STEM enterprise soapbox
Art and Photography
Photoshop/Photography Club – Times and dates (TBC) Term 3
'Gold Standard' Award – Students entered in Term 3 will be nominated for a prize, nominated by class teachers, and chosen by students in form time.
Art Catch up – Year 11 GCSE only – Thursday and Friday afterschool
Photography Catch up – GCSE only – Monday lunchtimes (1pm-1:40pm)
Photography Studio – Any lunchtimes
Computing
Coding club – Monday lunchtime
Hour of Code
Coursework catchup – Monday, Tuesday, Thursday, and Friday lunch
GCSE Computer Science booster class – Wednesday lunch
A Level Business booster class – Thursday after school
A Level Computer Science booster class – Wednesday after school
A Level Business Student Revision Workshop (Manchester) – 4th May
Design Technology
Komatsu, UniPress, Setia and other factory tours and trips
International women in Engineering Week
International men in Engineering Week
Guest speakers of previous students technology/engineering students, Engineering companies
Revision during lunch time (Tuesday, Wednesday, Thursday Y10) (Monday Y12)
Y12 Engineering- trip to Sunderland University to use the workshop
Revision cards for Y10- each revision they attend of resource they create they will get a stap. It is a snakes and ladder format, each time they get to where there was a ladder, they will get a mini prize
Lavery- Young apprentices' scheme. Manufacturing and engineering trips
Easter revision
Technology student of the year (One for each year group)
Maths tutor to support Y13 with Unit 1 exam (Richard Hornby)
Performing Arts: Drama and Music
Annual shows: Bugsy 2022, Christmas Concert 2021, Award's Ceremonies
Beauty and the Beast Sunderland Empire visit
National Theatre 'Jekyll and Hyde' March 2022
National Theatre 'Hamlet' all year 7 April 2022
Weekly drama club
Weekly dance club
 Daily lunchtime instrumental clubs
LAMDA performance and Public Speaking exams
Shakespeare's Schools Festival 2022
Sunderland School's Dance Festival.
Search For a Star 2022
Lunchtime and after school intervention for GCSE drama and music
Easter Revision
Geography
Geography Club (KS3)
Eco club (inc. Gardening) (KS3, KS4 and KS5)
RGS Young Geographer of the Year
GCSE Fieldwork (Newcastle upon Tyne and South Shields)
KS5 Derwent Hill trip
Geographical enquiry (KS3) – local enquiry projects
Urban planning workshop (Y10)
External speakers (careers in geography)
History
Battlefields trips were run on an annual basis and will be resuming next year
KS3 trip to either Beamish or Leeds Armoury
GCSE Pod extra study on a Thursday
Media
Media Studies week in English curriculum for options week
Media Year 11 Revision Club Fridays coursework catch up
Media 6th form revision club Mondays
Guest Speaker – How to get into the Media Industry.
Film Visit – Pinewood studios – 2023
PE
Extra-curricular clubs in football, netball, rugby, basketball, table tennis, hockey, fitness, cricket, and athletics
Development of new HiitZone area
School teams in Football (Year 7-11, 6th Form) School teams in Netball (Years 7-10), Rugby teams in years 7/8 and 9/10, U12 and U14 Basketball teams
Compete in City and region wide Sainsburys School Games events
SSG Silver award for participation and development in 2020 and 2021
Great Active Sunderland School Charter 2021 – 2022 (in Progress)
Work with local coaches to deliver sessions e.g., Newcastle Falcons, Sunderland CC,
Reward trips to local sporting events – e.g., Durham T20; Newcastle Thunder
Health & Social Care and Child Development
Health and Social Care & Child Development
Research and Watch lists
Year 11 lunch time Revision Club/ coursework catch up
Safeguarding Guest speakers
Skills for Care guest speakers
Pen Pal scheme with a local care home
Termly 'Superstars' certificate acknowledging outstanding work, progress, and dedication to the studies.
First Aid Course
Modern Foreign Languages
Film club aimed at KS3
Lunchtime language club with year 7
Sixth Form cinema visits
MFL careers week
British Council Award for hosting language assistants
1:1 speaking practice with Sixth Form
Spanish club – extra language provided to pupils in Sixth Form
GCSE song/poetry language competition
Essential Skills
Challenge Day
Virtual Work Experience
Personal Development: RSHE, PSCHE, SMSC
Mental Health Bronze Award
Anti-Bullying Silver Award – reapplication in process
Working towards – SMSC Quality Award
RSE (Relationship & Sex Education) (Relationship & Sex Education) Bronze Charter Award (in progress)
LBGT+ Support Club
The Riot Act Performance – Road Safety
Sexual Health Outreach Team – C Card Assembly (Year 10)
The Violence Reduction Unit – County Lines Awareness Session (Year 9)
The Violence Reduction Unit – Malicious Communications Session (Year 8)
Northumbria Police Talk – Indecent Images
Mental Health Roadshow
State of the City Debate
Student Council
UK Parliament Outreach visit (years 7 and 9)
The school has a considerable number of partners that support the delivery of themed weeks and drop-down days:
SEND (Special Education Needs and Disability)
Daily social interaction / vulnerable young person sessions
1:1 support in PSC
Mentoring
Quiet lunch club (library)
Homework club
Healthy Heads access (EMHP)
Early morning reading
Targeted reading interventions
Sensory time to support sensory needs
Reading Club (Lexia)
Access to reading suite
FRIENDS groups
Mental Health Support Team (MHST) in schools
Listening Ear (MIND)
School Nurse Lunchtime Clinic
Careers and Work Related
Quality in Careers Award 'fully meeting all the accredited criteria incorporating the Gatsby Benchmarks'
Careers Week for each subject area
PwC (Price Waterhouse Coopers) visit for Year 9 business challenge
NHS careers competition through Gibber 'Why Care?' interactive production
Building My Skills programme from Esh Group
Work Experience placements
GlobalBridge online profiles
NCS (National Citizenship Service)
BBC Bitesize Schools Tour
National Careers Week and National Apprenticeship Week
Various visits to workplaces, including Komatsu, Wearside Audi, Unipres,
Speakers for Schools talks
Year 9 Destinations Success
Various employers delivering small group seminars to Sixth Form students, including Robson Laidler Solicitors, Specsavers, Accenture
Visit to Further and Higher Education providers, Apprenticeship and Training providers.
Southmoor Scholars
Barclays LifeSkills workshops for Sixth Form
Fundraising
Odd socks day to raise funds for anti-bullying and mental health week.
Non-uniform day for Red Sky Foundation
Support Ukraine – Donation Day
Raising and Giving Week for Red Sky Foundation
Additional Extra-Curricular
Film club with from summer term every Tuesday
Gardening club (KS3, KS4 and KS5)
Psychology
NE1Can careers talk – counselling which was booked and streamed across via team to our Years 10-13 pupils
Beyond the specification 'super curricular' tasks per half term. Linking new research from the BPS (British psychological society) to their current studies
Wednesday support hour for all years (help with work and careers advice)
'I'm a scientist' online discussion with four psychologists from various parts of the world – live chat.
Tutor2U grade booster workshop- Leeds. This workshop is led by examiners
Specially designed and tailored career booklet linking tasks to job roles and units of study
Psychology careers week
Weekly 'psychologist of the week' certificate acknowledging challenging work, progress, and dedication to the studies
Psychology 'intervention clinic' for KS5 students. One extra session a week which is one to one tuition to help progress
Partnership and Community Links 2020-21
MHST (Mental Health Support Team) – in schools
Sunderland MIND
Sunderland MIND – Listening Ear 
Enrichment Gallery