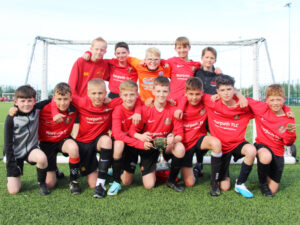 The Year 7 football team have invoked the spirit of the Arsenal Invincibles and completed the 22/23 season without losing a single game. They finished the league season with seven wins and two draws both of which came against strong St Aidans opposition.
The road to the later stages of the cup competition was a tricky one that saw the team beat Kepeir, Castle View and Monkwearmouth on their way to the final against St Aidans.
The game was extremely competitive with both sides creating chances, but a Thomas Maughan penalty and a late own goal were enough to see the boys run out 2-1 winners and lift the trophy. To say we are proud of all the boys hard work and dedication is an understatement.
Our squad members were: Cameron Talbott-Brown, Olly New, Harry Ryan, Joe Ashplant, Callum Turnbull, Jadon Golightly, Harrison Todd, Joshy Scott, George Sly, Thomas Maughan, Joe Hindmarsh, Jordan Stainbank, Kade Sherrington, Harry Townshend, Tristan Byrne (Year 7).
Well done on a fantastic achievement and exceptional season.