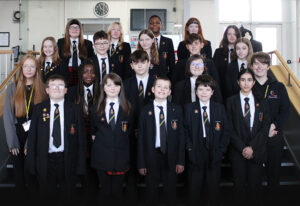 Prior to the half term break, our students council were elected after the candidates showed their manifestos to their peers. Congratulations to the following students who will now serve their term over the next year, acting as ambassadors to the school and liaising with senior staff as the voice of the students they represent as well as representing us at the Sunderland Youth Parliament.
Our Student Council for this year are:
Bobbie Gray, Rex Nkwoka, Elora Lowe, Thomas Kent, James Campbell, Isaac McCabe, Bethany Smart (Year 7), Evie Norman, Lana Dennis (Year 8), Patrick Richardson, Amy Statham Anderson, Ryan Tate, Katelyn Dowling, Maria-Efthimia, Kontou-Watson, Roman, Milan (Year 9), Marina Kibondo, Madison Redhead, Sumaika Shahab (Year 11) and head students Amelia Woods and Jacob Hauxwell (Year 12).