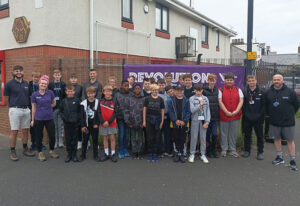 Sunderland Community Action Group's summer programme was busier than ever with their junior club and senior clubs being fully booked throughout the holidays. Many of the young people attending were our new Year 7's. Young People had the opportunity to do Battle Ball, table tennis, arts and crafts plus a full range of sports on site at the school, whilst receiving a varied meal selection including hot and cold lunches and snacks such as fruit and vegetables at each session. Many of the group enjoyed offsite go-karting in the annual Go Kart Championships with Owen Lanagan taking 2nd place overall. The group also enjoyed multiple bike rides and fishing offsite at SCAG's St. Peters Cycle and Sports Hub.
As lead partners to Back on the Map's YES programme, SCAG's community Give Back day was brilliant, seeing 25 local young people taking part in a range of community based environmental activities such as painting, designing and issue-based work.
SCAG have also agreed to take three young people on who are recent Southmoor Academy School Leavers. The three young people will become Level 2 Sports Community Activator coaches. Through the group's partnership with Rise, Coach Core and the Lifetime Chances Programme, Callum Richardson, Keaton Swales and Layton Warrener will become apprentice community coaches. They will also undergo Youth and Community Work training, first aid training, and safeguard training to boost their personal and professional development as part of our team, whilst gaining vital experience in the youth and community field.