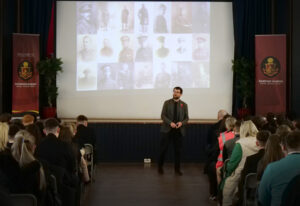 During assemblies last week, Mr Wright spoke to our students about the meaning of Remembrance but also discussed the number of young people that have been involved in conflict, both on the front line and also as citizens living in a country, and that young people continued to be affected by conflict in many areas of the world today, including Gaza and Ukraine.
Mr Wright encouraged all students to think carefully about what is going on in other parts of the world involving young people of similar ages. During form activities, students had the opportunity to explore the many symbols that are used for Remembrance and why these symbols are used each year.
Students have also been making paper poppies during form time throughout the week to display on their classroom windows leading to a bloom of red throughout the school by Friday morning.