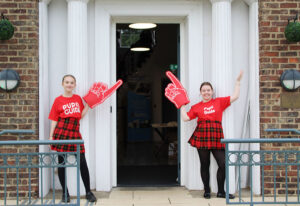 This year's annual open evening once again highlighted Southmoor's enduring appeal to parents, drawing a substantial crowd of visitors to our academy eager to discover more about us. It was a fantastic opportunity to showcase our unique qualities and explain why we are one of Sunderland's most popular schools. Everyone had a delightful time interacting with our dedicated staff, aided by our enthusiastic student helpers, and exploring a plethora of entertaining subject-specific activities on offer. As they bid adieu, students left with handfuls of complimentary prizes along with broad smiles on their faces.
Thank you to everyone who joined us on Wednesday, we are looking forward to seeing many of you again if you decide to make Southmoor your choice.
For parents of Year 6 students, the application process is now open. If you haven't already, please click here to access the Sunderland School Places Application Page. The preference period is open now and runs until 31st October 2023.
Furthermore, we'd like to extend our hearty congratulations to Opeoluwa Idris the winner of our "Guess the Mascot's Name" competition. Ella successfully guessed the name of our bear mascot, which was Ellenor.