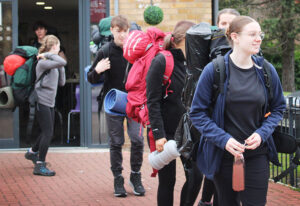 After a whole year worth of work, Year 12 and 13 students set out to complete their final expedition for the Duke of Edinburgh Award.
26 of our year 12 students hiked in the Lake District for their Silver Duke of Edinburgh assessment. Over three days the teams covered roughly 40 kilometers by foot, navigating themselves through varied terrain and carrying all their kit with them. When at camp each team cooked and pitched tents independently over two nights, with minimal help from staff.
Its been a gruelling experience for many of them but all staff and students have kept a smile on their face throughout, enjoying breathtaking views and spots in the sun throughout. The expedition concluded on Saturday afternoon in the town of Keswick where the teams enjoyed a much deserved break by Derwent Water before making the journey back to Sunderland.