It is really important that you start creating a CV now so that you have a template to continue adding information to it over the next few years. You will need a CV when applying for future education opportunities and jobs.
What is a CV?
A CV is your first chance to promote yourself to an employer. A good CV will get you to an interview. Use it to apply for advertised jobs, or to introduce yourself to employers you'd like to work for. They may have unadvertised vacancies.
Karen Routledge, our Enterprise Advisor, and Head of Business Development at SETA (Sunderland Engineering Training Association) has created a virtual CV writing workshop. In this video, Karen will talk through how to make a perfect CV. In addition, there is an accompanying template that you can use by clicking here.
Follow these simple steps to create your own CV:
Step 1: CONTACT DETAILS
your name at the top of your document – no need to add CV or curriculum vitae
your full address and postcode
telephone or mobile number – give the number you're most likely to be available on during the working day
email address – always use a professional sounding email address
Leave out details like your age, date of birth, marital status and nationality. These are not required.
Add a link to your Globalbridge profile if you have made one.
Step 2: PERSONAL PROFILE

This is a few short lines that sum up who you are and what you hope to do. Think about the job you want and what the employer is looking for. Make your profile sound like you're the right person for the job. Include a couple of sentences about the skills and qualities which make you suitable for the post/course and give examples:
Problem-solving/numeracy/written communication skills link to achievements in school subjects
Ability to work under pressure- making sure schoolwork completed on time
Punctuality and attendance- if you have never missed a day of school since reception –shout it out here, certificates/awards!
Good organisational skills
Teamwork- don't just relate to sports, think about working with others on projects
Keen to learn and improve skills –are you motivated and enthusiastic, enjoy new challenges?
Trustworthy and reliable – member of team/club
Leadership skills –sports captain, voluntary work, student voice
Step 3: YOUR EDUCATION HISTORY

This section can be added after your personal profile when you're early on in your career or if you do not have much work experience. Whatever order you choose, you'll need to give:
the names of your qualifications, with achieved or predicted grades
the school, college or university where you studied
the dates you attended
Step 4: YOUR WORK EXPERIENCE HISTORY

Include work placements, volunteering and any paid jobs you've held. You'll need to give details of:
the employer, with most recent first
the title of the job
the dates you worked
a brief outline of what you did – usually 2 to 3 lines
If you're applying for your first job, you can focus on skills you've learned through projects, part-time work, school work experience, internships, placements or volunteering.
Step 5: HOBBIES, INTERESTS, ACHIEVEMENTS

Use examples that show you have skills that are relevant to the job. This section is useful if you do not have much work experience.
Once you have completed your CV, make sure that the format is professional. Here is an example: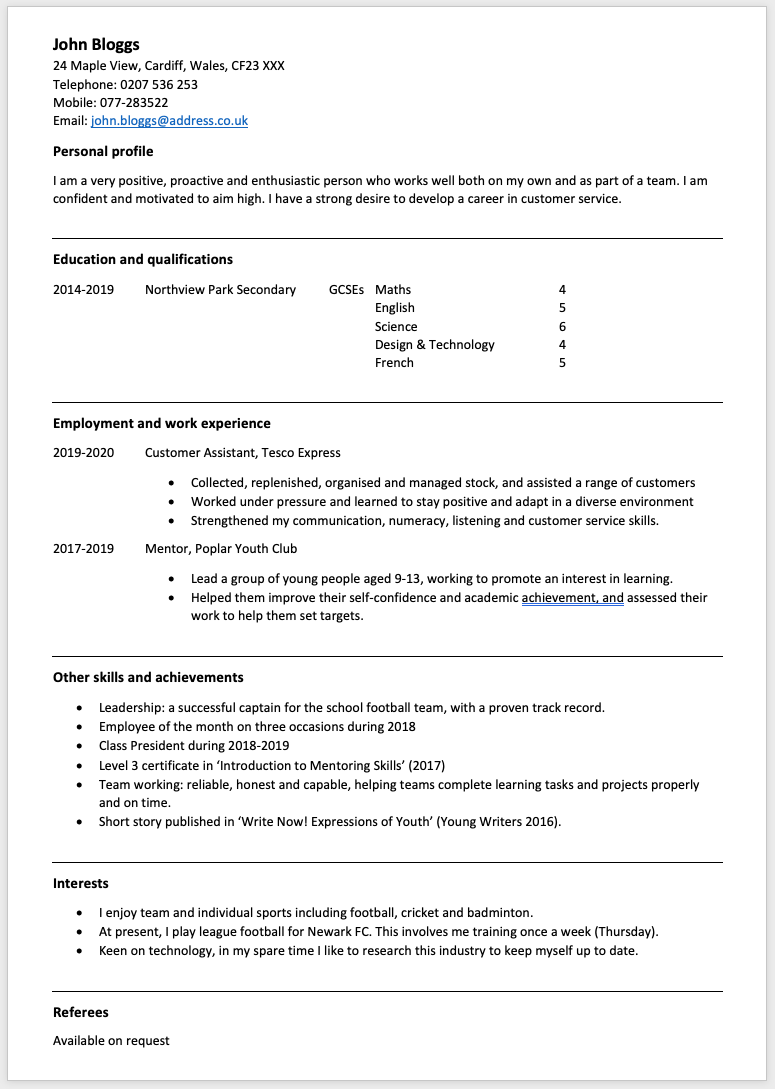 You can create your CV as a Word Document.
Alternatively, Barclays Lifeskills have a CV-making tool that you can use to help you create a professional looking CV.
Read this interesting article from Barclays Lifeskills about the most common CV mistakes. Have you avoided these?