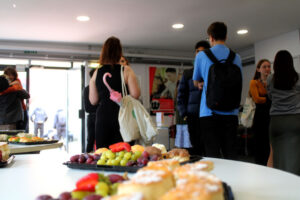 On Tuesday 12th September we had the delight of welcoming former students back into The Sixth Form for a very special afternoon tea event; our first Alumni Event this year! Between the scones and sandwiches, alumni students met with current Year 13 students to help advise them on their decision-making process of university applications and their preparation for A-Level exams. Former students Alice Ward and Jeremy Hendricks were especially busy, speaking to students who wanted to apply to Medical degrees / Oxford and Cambridge universities (Alice studies Medicine at Cambridge) or Law degrees (Jeremy studies Law at Durham, prior to which he was part of Durham's Supported Progression Scheme).
In addition to this, students who left Southmoor from as long ago as 2003 were able to meet old teachers and update them on their career progress as well as sign up for a variety of support programmes for Southmoor students, such as the 'Building Bridges' programme which pairs appropriate students up with alumni mentors to help them progress from A-Level study to higher education.
Thank you to all alumni who came in support of the event and for their ongoing support of students at The Sixth Form. Alumni, keep an eye out for future events!