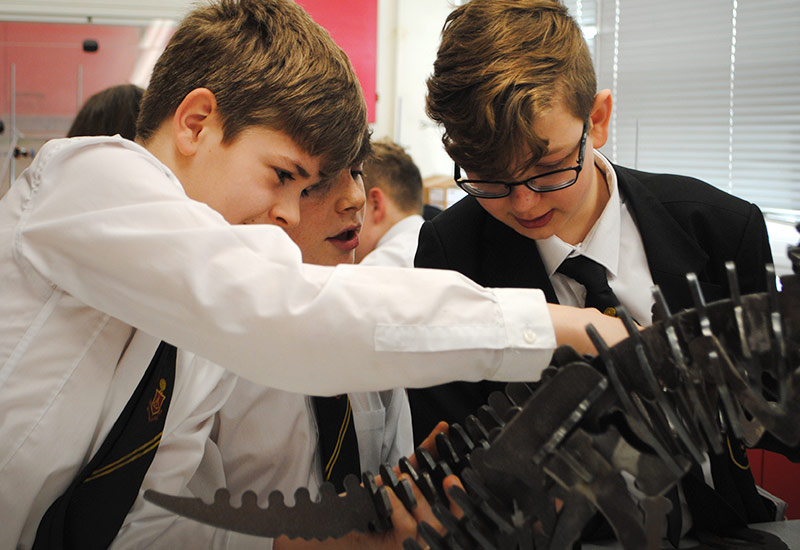 Over the course of the year we arrange a broad range of events for our students aimed at informing them of the different career paths available to them and helping them understand the working world beyond their school years. Below you will find a list of the upcoming events in our CEIAG calendar as well as information about past events we have held.
Careers Fair 2017
In November 2017 we held a Careers Fair to continue the drive to raise aspirations and educate Year 11 students about future careers and employment opportunities. Representatives from a range of industries, providers and services joined us to advise pupils including Liebherr, Jacksons Law, Springboard, Keepmoat, Geek Talent and Tyne and Wear Fire and Rescue.
Nissan Factory Visit
Pupils from Years 7 to 10 have been taking part in visits to local car giant Nissan. The focus of the visits was to promote careers in Science, Technology, Engineering and Maths (STEM). Pupils had a tour of the site and took part in workshops and activities. Thank you to Nissan for welcoming our pupils to see manufacturing in action.
Hospitality Careers Visits
In Novemeber we continued introductions to local careers with a look at the hospitality industry. Students visited The Hilton Garden, Marriott Hotel and Roker Hotel to gain an insight into the different career paths available in these areas. Highlights of the visit included pizza making in the restaurant, testing out mocktails in the bar and turning a hand to room services. Thank you to the staff at these local hotels for hosting our students.
SETA Visits
In December 2017, a group of Year 11 students visited SETA Training to find out about the industry-recognised training they provide for local apprenticeships in both engineering and business disciplines. Students toured SETA's Washington base which is the largest engineering training centre in the North East. They got a close look at the workshops and state-of-the-art equipment that trainees use to practice their skills.
Liebherr Visits
In January we were once again invited to take a group of Year 11 pupils to visit Liebherr Sunderland, a manufacturing plant on the banks of the Wear for maritime cranes and cargo handling equipment. Students were given a tour of the site as well as receiving invaluable advice regarding apprenticeship opportunities. More visits to Liebherr are scheduled for next week.
CCAD Art Careers Visits
Cleveland College of Art & Design was the destination for Sixth Form Photography students participating in a photography workshop. Whilst there, Sixth Former Chloe Ebdon was interviewed and has been given an unconditional offer onto her chosen course! We are establishing strong links between the degree programmes and our Sixth Form which is already paying off.
Cambridge Calls at Southmoor
This week we welcomed students from Cambridge University who participated in discussions with Year 9 and 10 students about what to expect from higher education. The group workshops are designed to raise aspirations and awareness whilst equipping students with the skills and knowledge to enable them to make competitive applications. Students were very interested to hear about life at one of the world's top universities with many questions about life after college and sixth form.
Sixth Form Open Evening
January also saw the best ever turnout for our Sixth Form Open Evening which was a chance for students to think about their future. With universities and higher apprenticeship providers in attendance, guests had plenty of people to talk to. But even better than talking to the professionals, potential sixth formers had the chance to hear from our successful candidates for some of the best Russell Group universities in the country as well as enthusiastic students from current Year 12 and 13.
National Career Week 2018
With aspiration being high on our agenda, we have fully embraced National Careers Week staging a host of events for pupils across the school. There were visitors representing the fields of construction and engineering, health / social care as well as hair and beauty to name but a few. Engagement came in many forms including workshops, assemblies and one-to-one guidance. Year 11 students got a chance to discover more about apprenticeship schemes with tips and specialist support available to make applications.
Year 7 Newcastle University Visit
A group of Year 7 students visited Newcastle University. Although it might seem like a long time before these pupils make a decision on their chosen career paths, it is never too early to start looking at options open to them in the future. Students had the chance to tour the Newcastle campus, learn about university life and get an insight into the types of subjects they could be studying.
Students Visit Sunderland Software City
Year 9 and 10 students were welcomed to Sunderland Software Centre where they met and spoke to a range of digital employers, further education providers and other organisations that have progression opportunities in the ever-growing field of software and digital development. Students took part in interactive workshops and practical demonstrations giving them fantastic insight as to how they could be working as part of Sunderland's digital future.
OxNet is Go!
We saw the launch of the 'OxNet' hub for the North East which was held at the National Glass Centre. Students from across the region attended alongside the Pro Vice Chancellor of Durham, Professor Alan Houston, Lesley Griffin of Sunderland University and academics from all the major regional universities. Dr Peter Claus, the creator of the OxNet program was in attendance and accompanied Dame Lynne to Southmoor the following day. Students heard from a range of speakers about the exciting prospects of the programme as well as having the chance to explore the 'Ordered Universe' exhibition which is a collaborative project that some of our current Sixth Form students were lucky enough to take part in over the summer.
[Not a valid template]
Pondering About Portfolios
Cleveland College of Art and Design came to Southmoor to talk to GCSE and A Level students with an interest in Creative Degree courses. The talk outlined the skills, qualities and attributes that are important for a creative course and how to produce a good portfolio of work. The students were fully engaged with many discussing possible choices for sixth form and beyond in a creative subject or career. We currently have a number of Year 13 students going through the interview process submitting their own portfolios of work!
[Not a valid template]
Apprenticeships on Offer
We were joined by a representative from Access Training, an award winning training provider, based at Team Valley in Gateshead. Access were in school to offer a variety of apprenticeship opportunities including business, accounting and finance training to interested Year 11 students.
[Not a valid template]
Learning About Life Skills
We were joined by associates from Barclays Life Skills to deliver workshops to Year 12 students. 'Life Skills' is a specially designed course, set to inspire young people to get the skills they need for a better future. This includes such things as building a job-hunting toolbox, developing personal skills, money and finance management, confidence building and much more. Students will continue the course each week over the coming month so that they are better prepared for the responsibilities of life beyond sixth form.
[Not a valid template]
Work Discovery Week 2018
Students once again stepped out into the work place and spent time at Work Discovery which is an annual careers fair held at The Stadium of Light supported by a range of employers. Students had a wonderful time exploring the myriad of different career based skills and challenges on offer. Next week a group of students will return to present an enterprise activity which they have been working on, going head-to-head against 19 other Sunderland secondary schools in a Dragon's Den style competition. Watch this space!
[Not a valid template]
Working Things Out
Our careers curriculum has been completely re-worked to offer better opportunities to students throughout every year group. As part of this initiative we have employed a specialist careers advisor to deliver guidance as students look towards their future careers. Mrs Robinson will interview students and offer bespoke one-to-one advice to Year 11 as they approach the end of secondary school. Mrs Robinson will attend parents' evenings to discuss career possibilities for each of our students and will be playing a big part in our ever improving careers curriculum.
[Not a valid template]
Nissan Cadets Get to Work
Pupils tested their quality control skills as 'Industrial Cadets' at Nissan in Sunderland. Industrial Cadets aims to introduce young people to the workplace, offering a real insight into how businesses operate. In this case, students were introduced to the idea as working as part of a production line, being challenged by Nissan staff to build miniature car models on time and to a high standard of quality – just like a real production line. Students learnt a great deal from the workshop including the importance of teamwork, communication and focus.
[Not a valid template]
Looking at Life Skills
We were delighted to welcome representatives from the Transformation Trust and Barclays to deliver important 'LifeSkills' sessions to Year 7, Year 9 and selected Year 12 students. The sessions looked at the value of money, online safety and 21st century skills. Students really engaged with the sessions and learned some valuable skills for the future.
[Not a valid template]
Southmoor Scholars Set for Success
We launched The Scholars Programme – a joint endeavour between Southmoor and Sandhill View – to give students a flavour of university study with the independence to design and complete a personal project. Students will attend a series of guest lecturers from local universities and complete a study skills scheme of work before finally presenting their creations. Future scholars were identified across Years 10 and 11 and the applications are flying in!
[Not a valid template]
School of Nursing
Mrs Ellis met with staff from The School of Nursing at Sunderland University which offers degree level courses in Adult Mental Health and Learning Disability Nursing. It is hoped this relationship will inspire Health & Social students to make future career choices within this sector.
[Not a valid template]
James Cook Mini-Medical School
Aspiring doctors in Year 12 attended a 'Mini Medical School' lecture series at James Cook Hospital where topics included: 'Medicine at the Sharp Edge' with Dr Jeff Doran, 'Exploring General Practice' with Dr Hugh Alberti and Dr Adedoyin and 'Painting a Picture of the Skin; Warts and All' with Dr Rob Ellis.
[Not a valid template]
Business Boffins
We welcomed representatives from PwC who are a global leader in assurance, tax, business consultancy and advisory services. Year 12 students were provided with information on different careers in the industry as well as an introduction to some of the various programmes PwC offer to school leavers and undergraduates.
[Not a valid template]
Thinking Fast
Seven Year 12 students spent a week at Nissan working on a Formula 1 project where they designed miniature F1 racing cars learning how to use brand new programming software and applying engineering theories to their designs.
[Not a valid template]
Medical Practice
Durham School invited prospective medics and vets for a Multiple Mock Interview (MMI) workshop where they experienced a variety of activities that tested empathy, situational judgement and motor skills. This included describing directions to a blind man and trying to thread string through a polo with tweezers.
[Not a valid template]
Health Alive
Year 12 students interested in healthcare attended a 'Health Alive' day at Northumbria University taking part in a range of workshops including Midwifery, Surgery and Child Nursing. This was a unique opportunity to have hands-on experience in their chosen specialisms and meet Northumbria's famous robots (babies and adults!).
[Not a valid template]
Stage-by-Stage Careers Advice
We were delighted to host Martin Prendergast, former Director of Communications for the National Theatre, to talk to students about his past role and what to expect from pursuing a career in the entertainment industry. Martin also enlightened students with his 'top tips' for a successful career.
[Not a valid template]
Sounds Good
The Northern School of Art visited creative students across several year groups to run a workshop on sound design. Students learned about 'foleys' – the recreation of sounds using everyday objects – and created their own scene of birds flying away from a tree using whistles, bin bags and rubber gloves.
[Not a valid template]
Cambridge Calls In
Students from Jesus College, Cambridge University, visited Year 11 and 12 to provide an overview of Cambridge University, the opportunities available and how it differs from other institutions. Each student ambassador spoke about their own subjects and experiences with some of them even being natives of Sunderland themselves!
[Not a valid template]
Students in the Studio
A group of 19 students attended the Northern School of Art at the Hartlepool Campus last week on a digital photography studio based workshop. The students worked with industry standard kit and produced some excellent outcomes both on location around the building and in the photographic studio. The Staff running the workshop commented that 'Our students were particularly creative, confident and knowledgeable.
[Not a valid template]
BBC Bitesize Roadshow
The BBC joined us for a special Bitesize Roadshow aimed to give an insight into careers and job opportunities within the creative industries. Hosted by BBC Radio 1xtra presenter Nick Bright, it also featured a panel of experts with the aim of offering an inspiring insight into the routes and opportunities within these sectors that students may not have considered.
[Not a valid template]
Year 13 Go Beyond the Personal Statement
NECOP ran a workshop for Year 13 who have applied to university. Topics included the timeframe from now until results day, options students have in terms of UCAS Extra and Clearing and how to conduct a successful interview. They also completed a budgeting activity where they had to plan their meals for a whole week with just £20!
[Not a valid template]