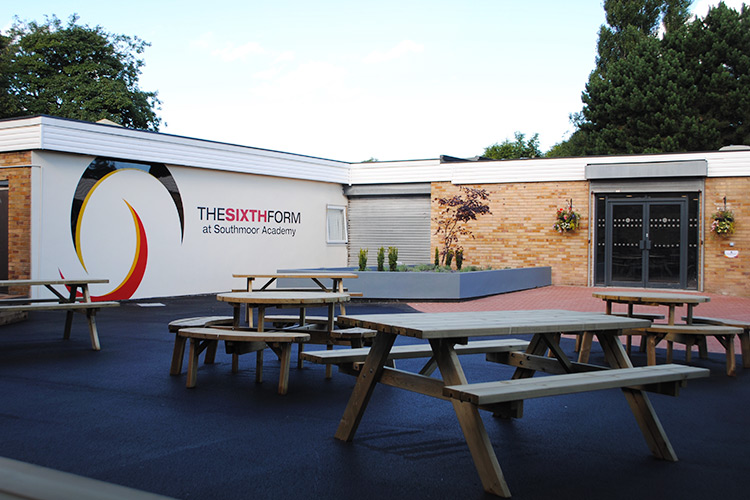 Sixth Form allows you to continue studying in a school-like way in a classroom but offering a unique atmosphere which is different to being in the main school. Teaching methods will be similar to what you have been used to at GCSE but with lots more social options.
THE SIXTH FORM AT SOUTHMOOR ACADEMY
The Sixth Form at Southmoor Academy opened for business in September 2014, with our first intake of year 12s, and our aim is simple. We want to provide a new and exciting choice for all post-16 students in the area, regardless of the school they currently attend. We offer something unique; we are not here to add to what already exists locally. Our vision is to provide something different. We want to give young people the personal care, rigour, focus and aspiration, which many traditionally associate with a School. We also want to allow freedom to develop as responsible young adults which many see as the advantage to the College experience.
Our students benefit from the focused support of a strong team, bringing together a wealth of experience. They benefit from the fresh approach of a brand new sixth form with no bad habits to break. And they benefit from a curriculum, and a timetable, custom designed to support students through the vital transition from GCSE to A-level, and beyond.
We live in an increasingly competitive world, where success only comes to those who show dedication and aspire to do their very best. This is exactly what we expect from you. We want you to imagine the very most that you can achieve and we want to take you beyond that. This means that when you join us we will set you demanding targets which we will expect you to meet. We want nothing short of academic excellence, and whilst we know that this is not easy to achieve, we firmly believe that nothing worth achieving is easy. The Sixth Form will not be easy, but it will bring out the best in you.
What can you study in the Sixth Form at Southmoor Academy?
For lots more information, visit the dedicated Sixth Form website
If you would like to find out more about the Sixth Form, email: southmoor6th@southmoormat.co.uk
A Level Courses:
| | | | |
| --- | --- | --- | --- |
| Biology | English Literature | German | Photography |
| Business | Film Studies | History | Physics |
| Chemistry | Fine Art | Law | Psychology |
| Computer Science | French | Maths | Sociology |
| Drama | Further Maths | Media Studies | |
| English language | Geography | Music | |
Vocational/Technical Courses (equivalent to A level – Level 3):
| | | | |
| --- | --- | --- | --- |
| Applied Science | Engineering | Sport | |
| Core Maths | Health & Social Care | | |