Year 10 Work Experience 2020 – 2021
What is work experience?
Work experience is an opportunity for students to visit a place of work and learn about a work based environment. It does not necessarily have to be connected to what you want to become but can also help inform and give vital experience when making decisions on future career choices.
Due to the ongoing Covid-19 situation, it will not be possible for Year 10 students to take part in our normal Work Experience placement programme. However, we would still like the opportunity for Year 10 to be involved in a collaborative project with a business to experience the world of work, even though this will take place on school site for this year.
Our Year 10 Virtual Work Experience programme will take place across two days during week commencing 14 June 2021. The exact details regarding the programme are still being confirmed; however, the provisional programme will be:

DAY ONE: Careers Explorer Day
On this day, students will …
have the opportunity to hear from a multinational retail business leader who is a former Southmoor student as part of a key-note speech.
set-up their own careers profile with our colleagues from Global Bridge.
take part in a CV writing workshop with our Enterprise Advisor
find out more about Further Education in a carousel activity, involving Southmoor Sixth Form, National Apprenticeship Service, Sunderland College and Newcastle College
interact with businesses and employers
visit a virtual Careers Fair

DAY TWO: Virtual Work Experience Day
On this day, students will improve their employability skills, as part of our work with Skills Builder, by taking part in a business challenge set by international Law and Legal Firm, Gowling WLG.
During the day, students will ..
be introduced to the project and set a simple task to reflect on their teamwork skills.
be introduced to the business, experience a virtual tour and prepare questions for the final employer interaction session
develop a solution to the business problem
prepare a short pitch to explain their solution to the problem
have a live Q&A session with the employer, present the business solution and receive real-time feedback from the employees
Year 12 Work Experience 2020-2021
All Year 12 students are expected to have completed a work experience placement by the end of Year 12. This year, due to the ongoing Covid-19 situation, it is not possible for students to actual complete a physical placement out of school. Therefore, there are many opportunities for students to engage in a virtual work experience placement. The school will support students to attend these virtual placements. More details can be found in this letter to parents: https://www.thesixthformatsouthmoor.co.uk/wp-content/uploads/Yr-12-works-experience.pdf
Virtual Work Experience placements are available through the following organisations. New placements are added continuously so it is important that students check the websites regularly for suitable opportunities:
Speakers for Schools https://www.speakersforschools.org/experience-2/vwex/. There are many placements available with national employers that students would not normally be able to access. These placements can be completed online and will often be over one day, several days or a week. Students can sign-up using the website, search for available placements, apply and receive further information if successful.
Springpod https://www.springpod.co.uk. Students can set up a login to access the work experience placements and apply for suitable opportunities.
Work Discovery Week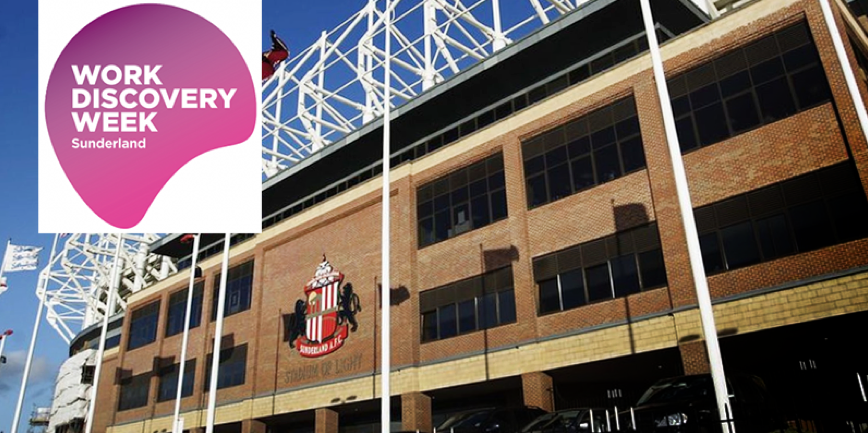 Work Discovery Week is Sunderland's annual work experience event that's become a national blueprint on how to engage young people with business, and how to encourage them to gain the skills to improve their employability.
Each year more than 1000 young people take part in a range of challenges, activities, workshops, inspirational lectures and exciting demonstrations held at the Stadium of Light and at businesses across the city.
Events can range from how to construct a racing car to how to control an 8ft high robot, and the fun activities all have a serious message, showcasing the diversity of jobs available across a wide range of sectors.
From brick-laying and welding demonstrations to high-tech challenges, more than 40 city businesses take part.
The event gives students access to some of the city's biggest employers.
Sector Days:
Our Year 10 and 11 students are able to get involved in sector days throughout the year for industries including: health, utilities, hospitality, engineering and manufacturing, retail, ICT.
Guest Speaker Days:
Students are able to attend guest speaker days throughout the year, giving them the chance to listen to motivational talks by leaders from some of the North East top businesses.
Work Discovery Sunderland is also partnered with the Industrial Cadets Scheme, which allows students taking part in Work Discovery to work towards either a bronze or silver level Industrial Cadet award.