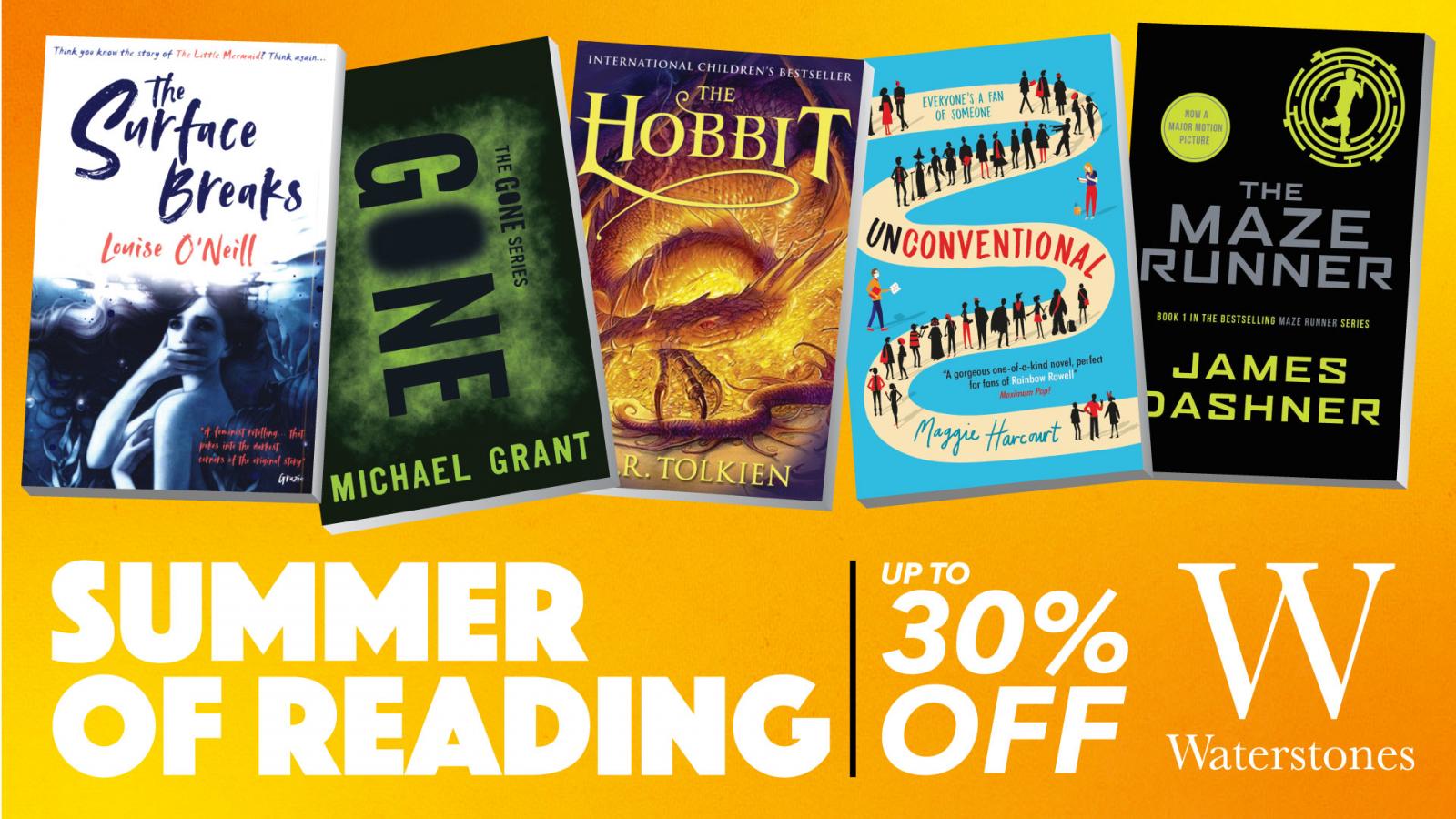 TITLE

AUTHOR

GENRE

SERIES / STANDALONE

DESCRIPTION

NOTES

RRP

DISCOUNT %

DISCOUNTED PRICE

One of Us is Lying

Karen McManus

Thriller

Standalone

Six students from very different social circles walk into detention, but only 5 of them leave. A murder mystery meets The Breakfast Club.

£7.99

30.00%

£5.59

The Hate U Give

Angie Thomas

Contemporary fiction

Standalone

A young African-American girl has to choose whether to stand up for what is right after she witnesses the shooting of her childhood friend at the hands of a police officer.

Film released in 2018

£7.99

30.00%

£5.59

On the Come Up

Angie Thomas

Contemporary fiction

Standalone

When aspiring rapper Bri's first song goes viral online for the wrong reasons she finds herself forced to decide who she wants to be

Film adaptation currently in production

£7.99

30.00%

£5.59

Children of Blood and Bone

Tomi Adeyemi

Fantasy

First in a series, book 2 due in March 2020

When a chance encounter brings her face to face with a rogue princess escaping from the palace with an object of immense significance, Zélie finds herself on a mission to restore what was stolen from her people and claim her birth right.

Film adaptation currently in production

£7.99

30.00%

£5.59

Noughts & Crosses

Malorie Blackman

Dystopian

First in a 4 book series, with a 5th book due in August

Romeo & Juliet set in a world where social standing is determined by skin colour.

BBC series due in 2019

£7.99

30.00%

£5.59

The Hunger Games
Suzanne Collins
Dystopian
First in a trilogy
In a dystopian version of America which was almost ruined by a rebellion, teenagers are sent to compete in a fight-to-the-death as a warning to the people
Film series released
£7.99
30.00%
£5.59
Divergent
Veronica Roth
Dystopian
First in a trilogy
In a world where society is divided into factions based on personality traits, Tris must learn where she fits in
Film series released
£7.99
30.00%
£5.59
Solitaire
Alice Oseman
Contemporary fiction
Standalone
Alice Oseman is possibly the best current teen author – pitch-perfect at capturing the struggles of being a modern teenager in the internet age.
£7.99
30.00%
£5.59
Radio Silence
Alice Oseman
Contemporary fiction
Standalone
£7.99
30.00%
£5.59
I Was Born For This
Alice Oseman
Contemporary fiction
Standalone
£7.99
30.00%
£5.59
The Exact Opposite of Okay
Laura Steven
Contemporary fiction
First in a duology
After being involved in a national online scandal, a witty and sardonic teen girl sets out on a mission to stand up for girls everywhere. Hilariously funny and a vital read for teenagers in 2019
Laura is a local author (based in Berwick) who frequently does events in schools and Waterstones stores in the North East
£7.99
30.00%
£5.59
Simon vs the Homo Sapiens Agenda
Becky Albertalli
Contemporary fiction
Standalone
Simon is struggling to come out to his friends and family, and when he strikes up an online friendship with the mysterious Blue he finally feels like he's found someone who understands him.
Film released in 2018 (Love, Simon)
£7.99
30.00%
£5.59
Ink
Alice Broadway
Fantasy
First in a trilogy
Coming-of-age story in a world where all people's deeds are recorded on their skin.
£7.99
30.00%
£5.59
Gone
Michael Grant
Dystopian
First in a 6 book series
Stephen King with a hint of Lovecraft for teens. When everyone over the age of 14 suddenly disappears, the kids have to figure out how to survive and deal with the superhero-like powers they are developing.
£7.99
30.00%
£5.59
To All the Boys I've Loved Before
Jenny Han
Contemporary fiction
First in a trilogy
When the letters that Lara Jean wrote to all the boys she had crushes on are accidentally posted, her love life suddenly goes from imaginary to out of control.
Netflix adaptation of first book released in 2019, subsequent books to be adapted
£7.99
30.00%
£5.59
Illuminae
Amie Kaufman & Jay Kristoff
Sci-Fi
First in a trilogy
Two teenagers are forced to flee their home planet after it is invaded by a intergalactic corporation. Told in the form of 'found documents' with diary entries, transcribed recordings and illustrations, so doesn't feel like reading a traditional book. Louise and Katie both love this series!
Film adaptation currently in production
£9.99
30.00%
£6.99
Cinder
Marissa Meyer
Sci-Fi
First in a 4 book series
A steampunk, sci-fi twist on the story of Cinderella (Katie can't count how many times she's read this series!)
£6.99
30.00%
£4.89
The Knife of Never Letting Go
Patrick Ness
Dystopian
First in a trilogy
In Prentisstown everyone can hear everyone else's thoughts in a constant, overwhelming Noise, until one day Todd stumbles on a spot of complete silence.
Film due to be released in 2019
£7.99
30.00%
£5.59
Eve of Man
Giovanna & Tom Fletcher
Sci-Fi
First in a trilogy, book 2 due in 2020
Dystopian love-story where the last girl on Earth has to choose between control over her own life and the future of the human race
£7.99
30.00%
£5.59
Unconventional
Maggie Harcourt
Contemporary fiction
Standalone
An adorable rom-com set against the backdrop of fan conventions.
£7.99
30.00%
£5.59
Fangirl
Rainbow Rowell
Contemporary fiction
Standalone
When twin sisters Cath and Wren go off to university, fan-fiction-writing introvert Cath has to choose whether to open her heart to new people and new experiences.
Rainbow Rowell published the fan-fiction story which Cath is writing in Fangirl as Carry On – loosely based on Harry Potter
£7.99
30.00%
£5.59
Eleanor & Park
Rainbow Rowell
Contemporary fiction
Standalone
Two outcast teens strike up a bond over mixtapes and late night conversations
£7.99
30.00%
£5.59
They Both Die at the End
Adam Silvera
Contemporary fiction
Standalone
Two boys go on an adventure of self-discovery on their last day alive.
£7.99
30.00%
£5.59
What if it's Us?
Becky Albertalli & Adam Silvera
Contemporary fiction
Standalone
A chance encounter between two boys at the post office sets off a will they-won't they romance where they have to figure out if the universe is pulling them apart or pushing them together
£7.99
30.00%
£5.59
Everything Everything
Nicola Yoon
Contemporary fiction
Standalone
Maddie is dangerously allergic to the outside world, but when she falls in love with the boy next door she has to navigate a relationship via messages on windows and emails
Film released in 2018
£7.99
30.00%
£5.59
A Good Girl's Guide to Murder
Holly Jackson
Thriller
Standalone
A teenage girl sets out to uncover the truth behind the unsolved murder case which saw her friend wrongfully accused
£7.99
30.00%
£5.59
A Curse so Dark and Lonely
Brigid Kemmerer
Fantasy
First in a series, book 2 due in 2020
A reimagining of Beauty and the Beast
£7.99
30.00%
£5.59
All the Lonely People
David Owen
Contemporary fiction
Standalone
Kat is happiest in her online life, but when she becomes the target of a trolling campaign and shuts down all her online accounts she begins to fade away in the real world
£7.99
30.00%
£5.59
Scythe
Neal Shusterman
Dystopian
First in a trilogy, book 3 due in Nov
In a dystopian future where people live forever, two teenagers are recruited to become Scythes and control the population.
£7.99
30.00%
£5.59
The Selection
Kiera Cass
Fantasy/Dystopian
First in 5 book series
Dystopian version of 'The Bachelor' set in a post World War 5 America where hand-picked girls from every district fight for the hand of the prince.
£7.99
30.00%
£5.59
The Handmaid's Tale
Margaret Atwood
Dystopian
First in a 2 book series, book 2 due in September
The ulitmate feminist dystopia in a world where women are oppressed by men in society's bid to repopulate a failing world. Definitely one for more mature readers.
TV adaptation, third series due
£8.99
30.00%
£6.29
Cherub – People's Republic
Robert Muchamore
Contemporary fiction
First in a series
A James Bond-style series of spy thrillers for teens
£7.99
30.00%
£5.59
I'd Tell You I Love You, But Then I'd Have to Kill You
Ally Carter
Thriller
First in a 6 book series
Pacy, at times funny, and very, very tense – a real page-turner, but an easy read
.
£6.99
30.00%
£4.89
Five Feet Apart
Rachel Lippincott,
Contemporary fiction
Standalone
Two teens fall in love with just one minor complication – they can't get within a few feet of each other without risking their lives.
Netflix film released in 2019
£7.99
30.00%
£5.59
The Surface Breaks
Louise O'Neill
Fantasy
Standalone
A reimagining of The Little Mermaid from a feminist perspective
£7.99
30.00%
£5.59
A Sky Painted Gold
Laura Wood
Historical fiction/Romance
Standalone
A Great-Gatsby-esque story set in 1920's Cornwall
£7.99
30.00%
£5.59
White Rabbit, Red Wolf
Tom Pollock
Contemporary fiction
Standalone
A taut thriller about murder, maths and the mind.
£7.99
30.00%
£5.59
Only Love Can Break Your Heart
Katherine Webber
Contemporary fiction
Standalone
first love, first heartbreak, the importance of family and finding yourself
£7.99
30.00%
£5.59
Uglies
Scott Westerfeld
Dystopian
First in 5 book series
Tally can't wait to turn 16 and be transformed from an Ugly to a Pretty, but then her friend Shay runs away and the dark truths of Tally's world start to be uncovered.
£7.99
30.00%
£5.59
Only Ever Yours
Louise O'Neill
Contemporary fiction
Standalone
A gripping dystopian which deals with issues of body image, misogyny and eating disorders.
£7.99
30.00%
£5.59
Goodbye, Perfect
Sara Barnard
Contemporary fiction
Standalone
When Eden's best friend runs away with a guy she knew nothing about, she is forced to question how far her loyalty to her friend goes
Winner of the 2019 YA Book Prize
£7.99
30.00%
£5.59
Opposite of Always
Justin Reynolds
Contemporary fiction
Standalone
Jack and Kate meet at a party, but when Kate tragically dies months later, Jack is sent back to the moment they met to save her life.
£7.99
30.00%
£5.59
After the Fire
Will Hill
Thriller
Standalone
A psychological thriller dealing with the aftermath of a girl's escape from a cult
Winner of the 2018 YA Book Prize
£8.99
30.00%
£6.29
Northern Lights
Philip Pullman
Fantasy
First in a trilogy
Fantasy adventure story with a feisty heroine
BBC series due in 2019
£7.99
30.00%
£5.59
La Belle Sauvage
Philip Pullman
Fantasy
First in a trilogy, book 2 due in October
Prequel to His Dark Materials, set years prior when Lyra is a baby.
Prequel series to His Dark Materials, but can be read as a standalone series
£7.99
30.00%
£5.59
The Perks of Being a Wallflower
Stephen Chbosky
Contemporary fiction
Standalone
Heartfelt coming of age story
Film released in 2012
£7.99
30.00%
£5.59
Half Bad
Sally Green
Fantasy
First in a trilogy
Nathan Bryn is a witch – half white witch, half black witch – his mother was a healer, his father a killer, and he's been kept in a cage since he was 14
£7.99
30.00%
£5.59
I Have No Secrets
Penny Joelson
Thriller
Standalone
Jemma has severe cerebral palsy and can't speak. But there has been a murder, and Jemma is the only person who knows who the murderer is.
£7.99
30.00%
£5.59
Remix
Non Pratt
Contemporary fiction
Standalone
Kaz is still reeling from being dumped by the love of her life. Ruby is bored of hearing about it. Time to change the record. Three days. Two best mates. One music festival. Zero chance of everything working out.
£7.99
30.00%
£5.59
Slated
Teri Terry
Dystopian thriller
First in a trilogy
Kyla's memory has been erased, her personality wiped blank, her memories lost forever. She's been Slated.
£7.99
30.00%
£5.59
Code Name Verity
Elizabeth Wein
Historical fiction/ WWII
Standalone, but a couple of her other books have connections with the characters in this one
A tale of courage, friendship and difficult decisions, a girl captured by the Gestapo in occupied France. Has some quite harrowing scenes, but a very good story and a mature reader would cope. Katie loved this one so much, her quote to the publisher made it into the finished copy!
£7.99
30.00%
£5.59
City of Bones
Cassandra Clare
Fantasy
First in a 6 book series
The epic adventures of the half-angel Shadowhunters of New York, who are tasked with keeping the demonic forces of the city at bay.
Film of first book released in 2013. Netflix adaptation currently airing.
£7.99
30.00%
£5.59
The Fault in Our Stars
John Green
Contemporary fiction
Standalone
When Hazel Grace meets Augustus Waters at a support group for teenagers with cancer, one of the best love stories in teen fiction begins
Film released in 2015
£7.99
30.00%
£5.59
Geek Girl
Holly Smale
Contemporary fiction
First in a 5 book series
When shy and awkward Harriet is spotted by a modelling agency she jumps at the chance to reinvent herself, but soon learns that her new-found fame isn't all it's cracked up to be.
£6.99
30.00%
£4.89
We Were Liars
E Lockhart
Contemporary fiction
Standalone
Contains one of the most unexpected plot twists ever – this needs to be read with no prior knowledge!
£7.99
30.00%
£5.59
Thirteen Reasons Why
Jay Asher
Contemporary fiction
Standalone
Clay returns home one day to find a box of tapes by his front door recorded by his classmate and crush Hannah. The only problem is, Hannah committed suicide 2 weeks earlier.
Netflix series
£7.99
30.00%
£5.59
The 100
Kass Morgan
Sci-Fi
First in 5 book series
After a nuclear war destroyed life on Earth forcing humans to live in spaceships above the radioactive surface, 100 juvenile delinqents are sent to re-colonize the planet.
TV series currently ongoing
£8.99
30.00%
£6.29
The Darkest Minds
Alexandra Bracken
Sci-Fi
First in a 4 book series
After a disease killed most of America's children, the survivors are sent to state rehabilitation camps to learn to suppress the powerful abilities they have developed
Film released in 2018
£7.99
30.00%
£5.59
Miss Peregrine's Home for Peculiar Children
Ransom Riggs
Fantasy
First of 4 books with a 5th due next year
When his grandfather dies, Jacob travels to the island he heard about in stories and meets the strange and wonderful children his grandfather was raised with.
Film of the first book released in 2017
£8.99
30.00%
£6.29
The 5th Wave
Rick Yancey
Sci-Fi
First in a trilogy
Post-apocalyptic thriller in the aftermath of an alien invasion.
Film released in 2016?
£7.99
30.00%
£5.59
Six of Crows
Leigh Bardugo
Fantasy
First in a duology
Six deadly outcasts team up to stage an impossible heist
Netflix series in production. Set in the same world as The Grisha Trilogy.
£7.99
30.00%
£5.59
The Martian
Andy Weir
Sci-Fi
Standalone
A NASA astronaut becomes stranded on Mars and has to figure out how to survive on an uninhabitable planet
Film released in 2015
£8.99
30.00%
£6.29
Girl Online
Zoe Sugg (Zoella)
Contemporary fiction
First in a trilogy
Teen blogger Penny moves to America with her family and documents every aspect of her new life
£7.99
30.00%
£5.59
Heartless
Marissa Meyer
Fantasy
Standalone
A reimagining of Alice in Wonderland that looks at the back story of the Queen of Hearts
£7.99
30.00%
£5.59

The Gentleman's Guide to Vice & Virtue

Mackenzi Lee
Historical fiction
First in a duology
A young bisexual British lord embarks on an unforgettable Grand Tour of Europe with his best friend/secret crush
£7.99
30.00%
£5.59
The Hobbit
JRR Tolkein
Fantasy
Standalone (although can function as a prequel to Lord of the Rings)
Hobbit Bilbo Baggins is recruited by a band of dwarves on a quest to reclaim their homeland
Film trilogy released
£7.99
30.00%
£5.59
Every Day
David Levithan
Contemporary fiction
Standalone (although a follow-up was released in 2019)
A wakes up every day in a different body and has learned never to get attached to anyone, until they meet someone they want to spend every day with.
Film released in 2018
£7.99
30.00%
£5.59
Delirium
Lauren Oliver
Dystopian
First in a trilogy
Love has been declared a dangerous disease and everyone is immunised against it when they turn 18. Lena is looking forward to the safe, predictable life this will bring until she meets Alex and begins to question everything she was raised to believe.
£7.99
30.00%
£5.59
The Maze Runner
James Dashner
Dystopian
First in a 4 book series
Thomas wakes in a walled encampment full of boys in the centre of a vast maze, with no idea how he got there or what has happened to the outside world.
Film released in 2014
£7.99
30.00%
£5.59
All the Bright Places
Jennifer Niven
Contemporary fiction
Standalone
This brilliant, compelling and heart-breaking book about two teenagers struggling with their lives, who find each other by chance, is full of refreshing honesty as it tackles the very serious issues surrounding mental illness.
Film adaptation currently in production
£7.99
30.00%
£5.59
Stormbreaker
Anthony Horowitz
Thriller
First in a series
Fourteen-year-old Alex Rider is recruited into MI6 and is sent to investigate a man offering state-of-the-art computers to every school in the country.
Film released in 2006
£7.99
30.00%
£5.59
The Kissing Booth
Beth Reekles
Contemporary fiction
Standalone
When Elle decides to run a kissing booth for the school carnival, she never imagines she'll sit in it – or that her first ever kiss would be with bad boy Noah
Netflix film released in 2018
£7.99
30.00%
£5.59
Percy Jackson & The Lightning Thief
Rick Riordan
Fantasy
First in a series
Percy Jackson learns that he is the son of Greek god Poseidon, and is sent to a camp for half-blood gods
Film released in 2010
£6.99
30.00%
£4.89
Floored
Sara Barnard, Holly Bourne, Eleanor Wood, Lisa Williamson, Melinda Salisbury, Non Pratt & Tanya Byrne
Contemporary fiction
Standalone
Seven strangers enter a lift and their lives become irrevocably intertwined. A collaboration between seven of the biggest names in UK teen writing.
£7.99
30.00%
£5.59
Dear Evan Hansen
Val Emmich
Contemporary fiction
Standalone
A simple lie leads to complicated truths in this big-hearted coming-of-age story of grief, authenticity and the struggle to belong in an age of instant connectivity and profound isolation.
Based on the hit Broadway musical, which makes its West End debut this year!
£7.99
30.00%
£5.59
You Got This
Bryony Gordon
Non-fiction
Openly explores topics like self-respect, body image, masturbation and mental health, making it the perfect companion for young women.
£9.99
30.00%
£6.99
Wreck This Journal
Keri Smith
Non-fiction
The book for anyone who's ever struggled to keep a journal – full of creative ways to 'destroy' the book
£9.99
30.00%
£6.99
You Are Awesome
Matthew Syed
Non-fiction
The two-time Olympian and bestselling author of Black Box Thinking turns his expertise to inspiring the next generation. A powerful, positive tool to help young people find their self-belief.
£9.99
30.00%
£6.99
I Hate My Selfie
Shane Dawson
Non-fiction
A memoir featuring Dawson's trademark silliness and satire
£9.99
30.00%
£6.99
Adultolescence
Gabbie Hanna
Poetry
A collection of more than 150 witty and edgy poems about love and relationships from the YouTube comedian and vlogger
£12.99
30.00%
£9.09
Why Don't Penguins' Feet Freeze?
New Scientist
Non-fiction
Stands alone but New Scientist have produced a huge range of similar books
Answers a selection of the most trivial and baffling questions in popular science – education at it's most entertaining
£8.99
30.00%
£6.29
TITLE
AUTHOR
GENRE
SERIES / STANDALONE
DESCRIPTION
NOTES
RRP
DISCOUNT %
DISCOUNTED PRICE
Attack On Titan
Hajime Isayama
Manga
Hundreds of years ago, the world was terrorized by man-eating giants. As a form of protection, what was left of humanity built cities surrounded by multiple high-rise walls to keep them at bay.
Anime adaptation made in 2013.
£9.99
30%
£7.49
It's been 100 years since the last sighting of a giant. Until teenager Elen and his foster sister Mikasa witness the city walls being destroyed by a super-giant that appears out of nowhere.
– A utterly captivating story that hits at your heart in the first few pages.
Assassination Classroom
Yusei Matsui
Manga
Students from class 3-E have a less than normal teacher. Firstly, he's a mutant octopus that can fly. Secondly, he wants to blow up planet earth. The only way for the class to survive, is to kill him.
Anime adaptation made in 2015.
£6.99
30%
£4.89
– despite the ominous title, his manga is brilliantly funny (and insanely wacky)
Black Butler
Yana Toboso
Manga
Sebastian Michaelis is a demonic butler who is bound by a supernatural contract to serve Ciel Phantomhive, the thirteen-year-old head of a noble family. However, rather than asking to cook and clean, Ciel requires Sebastian to avenge his parents death. Sebastian asks just one thing in return. When all tasks have been completed, he wants to be paid with Ciel's soul.
Anime adaptation made in 2008. Also a live-action film made in 2014.
£9.99
25%
£7.49
– a story with a HUGE plot, fabulous characters and so many emotional moments. Recommend a box of tissues with this read
Death note
Tsugumi Ohba, Takeshi Obata
Manga
High-school student Light Yagami comes across an ominous note book entitled "Death Note". After a few creepy instances and visits from a shinigami named Ryuk, Light discovers that any name he writes in the book will die. At the same time, Police enquire the help of a high-profile detective named L to solve the multiple deaths of notorious criminals around the district. – This manga is a personal favourite. A perfect blend of thriller, fantasy and moral conundrum.
Anime adaptation made in 2006 along with a Netflix movie made in 2017.
£9.99
30%
£6.99
Dragon Ball
Akira Toriyama
Manga
There's an ancient myth that around the world are seven hidden dragon balls. As legend goes, upon collecting all of them you will be granted one wish. Any wish. Some people wish to acquire the dragon balls for power, immortality and world domination. In order to keep the balls out of the wrong hands, A powerful Syian called Goku does all he can with the help of his friends to stop that from happening.
Multiple anime adaptations running from 1986 – present, films and games.
30%
– a great read for those that love martial arts/action-esque stuff! Also some of the most insane illustrations ever
Fruits Basket
Natsuki Takaya
Manga
In rather unfortunate circumstances, 16-year-old Tooru secretly lives on her own in a tent in the woods. Yuki Souma, and his cousin Shigure, both students at Tooru's school, stumble across her situation and invite her to stay with them. Upon arriving at the Souma house, Tooru discovers their secret: if a Souma is hugged by someone of the opposite gender, they temporarily transform into one of the animals of the zodiac.
iAnime adaptation made in 2001. And rumoured reboot happening late 2019.
£9.99
30%
£6.99
– An absolute classic. Romantic, humorous, emotional and wonderfully weird.
Fullmetal Alchemist
Hiromu Arakawa
Manga
Edward Elric, a young and powerful alchemist, and his brother Alphonse try to resurrect their dead mother through the forbidden act of human transmutation. It all goes wrong however, and Edward loses his brother as well as two of his limbs. With his supreme alchemy skills, Edward binds Alphonse's soul to a large suit of armour. Edward embarks on a journey with his younger brother to obtain the Philosopher's Stone. An object is capable of overriding the fundamental law of alchemy and hopefully restore Alphonse's body.
Anime adaptation made in 2003 along with numerous spin off and film titles.
£9.99
30%
£6.99
– this manga isn't afraid to strike where it hurts. Its painful beginning makes you egg-on Ed and Alphonse even more.
My Hero Academia
Kohei Horikoshi
Manga
In a world populated with super-humans, the superhero-loving Izuku Midoriya is completely powerless. However, after a string of events, Izuku inherits the powers of the world's best superhero, All Might. His dream of becoming the worlds greatest hero is soon reality and so he enrols into a high school for beings with elite powers. But just as though it's looking like Izuku's dreams are all coming true, he soon discovers being a hero is much more complicated than it appears.
Anime adaptation made in 2016.
£6.99
30%
£4.89
– It's like the X-Men of the manga world…Just with way more mutants.
One Piece
Eiichiro Oda
Manga
Monkey D. Luffy is obsessed with his childhood idol, Red Haired Shanks. A once powerful pirate. Inspired by his life, Monkey sets off on a journey from the East Blue Sea to find the famous treasure called One Piece which would make him the king of all pirates.
Anime adaptation made in 1999.
£9.99
30%
£6.99
– A super simple, but highly fun read. Friendship, adventure and laughter are its core values.
Ouran High school Host Club
Bisco Hatori
Manga
Haruhi Fujioka is a bright scholarship candidate at Ouran High School, an elite academy for students of high pedigree. somehow, she unexpectedly stumbles upon the Host Club. Led by Tamaki, the club is where handsome boys with too much time on their hands entertain the girls in the academy. In a frantic attempt to remove herself from the hosts, Haruhi ends up breaking a vase worth eight million yen and is forced into becoming the eccentric group's general errand boy to repay her enormous debt.
Anime adaptation made in 2006.
£6.99
30%
£4.89
– a literal laugh out loud manga. A great spoof of the high school romance genre.
Pandora Hearts
Jun Mochizuki
Manga
To young Oz Vessalius, the perilous world called the Abyss is nothing more than a folk-tale used to scare misbehaving children. However, when Oz's coming-of-age ceremony is interrupted by a malicious clan intent on banishing him into the depths of the Abyss, he realizes that his peaceful life of luxury is at its end. Now, he must confront the world of the Abyss and its dwellers, the monstrous "Chains," which are both not quite as fake as he once believed.
Anime adaptation made in 2006.
£9.99
30%
£7.49
– An Alice in Wonderland inspired Manga that is completely bizarre but incredibly loveable.
Sailor Moon
Naoko Takeuchi
Manga
Usagi Tsukino is an average student and crybaby. Unexpectedly, her humdrum life is turned upside down when she saves a cat with a crescent moon on its head from danger. The cat, named Luna, later reveals that their meeting was not an accident: Usagi is destined to become Sailor Moon, a planetary guardian with the power to protect the Earth.
Anime Adaptation made in 1992.
£9.99
30%
£7.49
– A manga that is just filled with girl power and cats.
Soul Eater
Atsushi Ohkubo
Manga
Death City is home to the famous Death Weapon Meister Academy, a technical academy headed by the Shinigami—Lord Death himself. Its mission: to raise "Death Scythes" for the Shinigami to wield against the many evils of their fantastical world. These Death Scythes, however, are not made from physical weapons; rather, they are born from human hybrids who have the ability to transform their bodies into Demon Weapons.
Anime adaptation made in 2009.
£9.99
30%
£7.49
– This manga has a touch of a Tim Burton style to it. Horror mixed in with fantasy.
Sword Art Online: Aincrad
Reki Kawahara
Manga
In the year 2022, virtual reality has progressed by leaps and bounds, and a massive online role-playing game called Sword Art Online (SAO) is launched. In the game, players can control their avatars using nothing but their own thoughts. Kazuto Kirigaya, player name "Kirito," is among the lucky few enthusiasts who get their hands on the first shipment of the game. He logs in to find himself, with ten-thousand others, in the scenic and elaborate world of Aincrad. it's full of fantastic medieval weapons and gruesome monsters. However, in a cruel turn of events, the players soon realize they cannot log out; the only way out is to complete all one hundred levels of the game.
IAnime adaptation made in 2012.
£14.99
25%
£11.24
– My favourite Manga of all time. A dream idea that gets flipped on its head. This manga is like a mix of jumanji and elder scrolls. If you die in the game, you die in real life.
Tokyo Ghoul
Sui Ishida
Manga
Ghouls live among us, the same as normal people in every way – except their craving for human flesh. Ken Kaneki is an ordinary college student until a violent encounter turns him into the first half-human half-ghoul hybrid. Trapped between two worlds, he must survive Ghoul turf wars, learn more about Ghoul society and master his new powers.
Anime adaptation made in 2015.
£8.99
30%
£6.29
– Just when you thought zombies were old school and boring, this manga brings them back to life. A visually stunning read.
Vampire Knight
Matsuri Hino
Manga
Cross Academy is an elite boarding school with two separate, isolated classes: the Day Class and the Night Class. On the surface, Yuuki Cross and Zero Kiryuu are prefects of the academy, and attempt to keep order between the students as classes rotate in the evenings. As the Night Class is full of utterly gorgeous elites, this can sometimes prove to be a bit difficult. It is completely necessary, however, as those "elites" are actually vampires.
Anime adaptation made in 2008.
£6.99
30%
£4.89
– The manga version of twilight. Very funny and very passionate story about forbidden love.