All students at Southmoor Academy must wear school uniform

Uniform
A high standard of personal appearance is expected of all of our pupils. The official school uniform should be worn at all times, including during examinations. Wearing our uniform identifies our students, not only with each other, but also as a member of our school community. The uniform associates students with the high standards of work conduct and dress we set them.
Year Group Badge Colours for 2018 – 2019
| | |
| --- | --- |
| Year 7 | Grey |
| Year 8 | Pink |
| Year 9 | Yellow |
| Year 10 | Orange |
| Year 11 | Blue |
(PLEASE NOTE – Badge colours will roll on in September)
House Badges 2018 – 2019

SCHOOL UNIFORM
Black blazer with Southmoor year group identity trimmed badge and House metal badge

Blazers must not be carried in bags

Plain, logo free, white shirt with collar – tucked into trousers or skirt

Plain black trousers (corduroy, flared, denim or canvas or 'skinny' fashion trousers are not allowed) or Red tartan skirt (Southmoor branded). No other skirt can be worn

School tie to be worn at all times

Black v-neck, long sleeved jumper, tank top or cardigan all with Southmoor badge only

Plain black, grey or white socks or plain black tights should be worn

Smart black shoes only (no trainers, plimsolls or boots)

Hair decorations are not allowed. Hijabs, if worn need to blend in with the school uniform.
It is advisable that a suitable bag is brought to school for all school sessions. Jewellery (except a watch), excessive make-up and nail varnish are not permitted in school for health & safety reasons. Coats and outdoor clothing may not be worn in class.
CASUAL, HOODED AND OUTDOOR TOPS MUST NOT BE WORN UNDER BLAZERS
Only Academy authorised badges and wristbands may be worn. Piercings are not allowed. Graffiti on uniform is strictly forbidden. Extreme hair colouring, cuts and styles are not permitted. All items of uniform should be marked with the pupil's name and form
* One metal house badge will be provided to new pupils free of charge on the first day of term (earlier pending delivery confirmation dates) and must be worn as part of the uniform
**Branded items can be purchased from our uniform supplier. Please see the bottom of this page for details.
PE Kit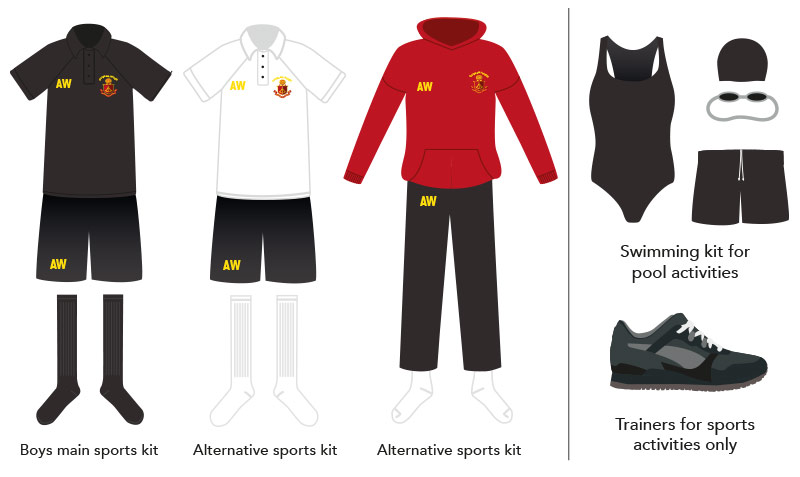 PE KIT
T-shirt (black or white with Southmoor logo)*

Plain black sports shorts

Black football socks or white ankle socks.

Hoodie (red with Southmoor logo)* – (optional item for cold weather)

Tracksuit bottoms (black with Southmoor logo)* – (optional item for cold weather)

Plain black swimming trunks/shorts

Towel for swimming

Trainers (any colour)

Football boots (optional)

Swimming Cap (any colour) required for pupils with long hair
Please ensure all items of PE kit are clearly marked with the pupil's name and form. There are over 1000 pupils in our school and can be easily lost or misplaced! Alternatively our PE Kit supplier can print your child's initials on their PE kit for a small charge. Cycling shorts and leggings are not part of the boys or girls PE kit.
All items marked with * MUST be branded kit with school logo, which only can be purchased from school supplier, Aceworkwear, 13b Back Blind Lane, Silksworth, Sunderland, SR3 1AT, Tel: 0191 5800456, Website: aceworkwear.co.uk. Size guides can be found on the company website.
**item can be purchased from school.
School Shoes Guide
A full guide of what shoes are acceptable at Southmoor Academy and where to find them can be found on this page.
Our Uniform Supplier
Our uniform provider is Elizabeth's Embroidery
8 – 10 Richardson Rd, , Stockton-on-Tees , TS18 3LJ
T: 01642 674973
You can place orders for our school uniform via

this link.
Please use the password SMASPIRE to access the order form.