Where can I go to get support to help keep my child safe online?
There is a lot of support available to keep your child safe online. Below are some useful links to help parents and carers: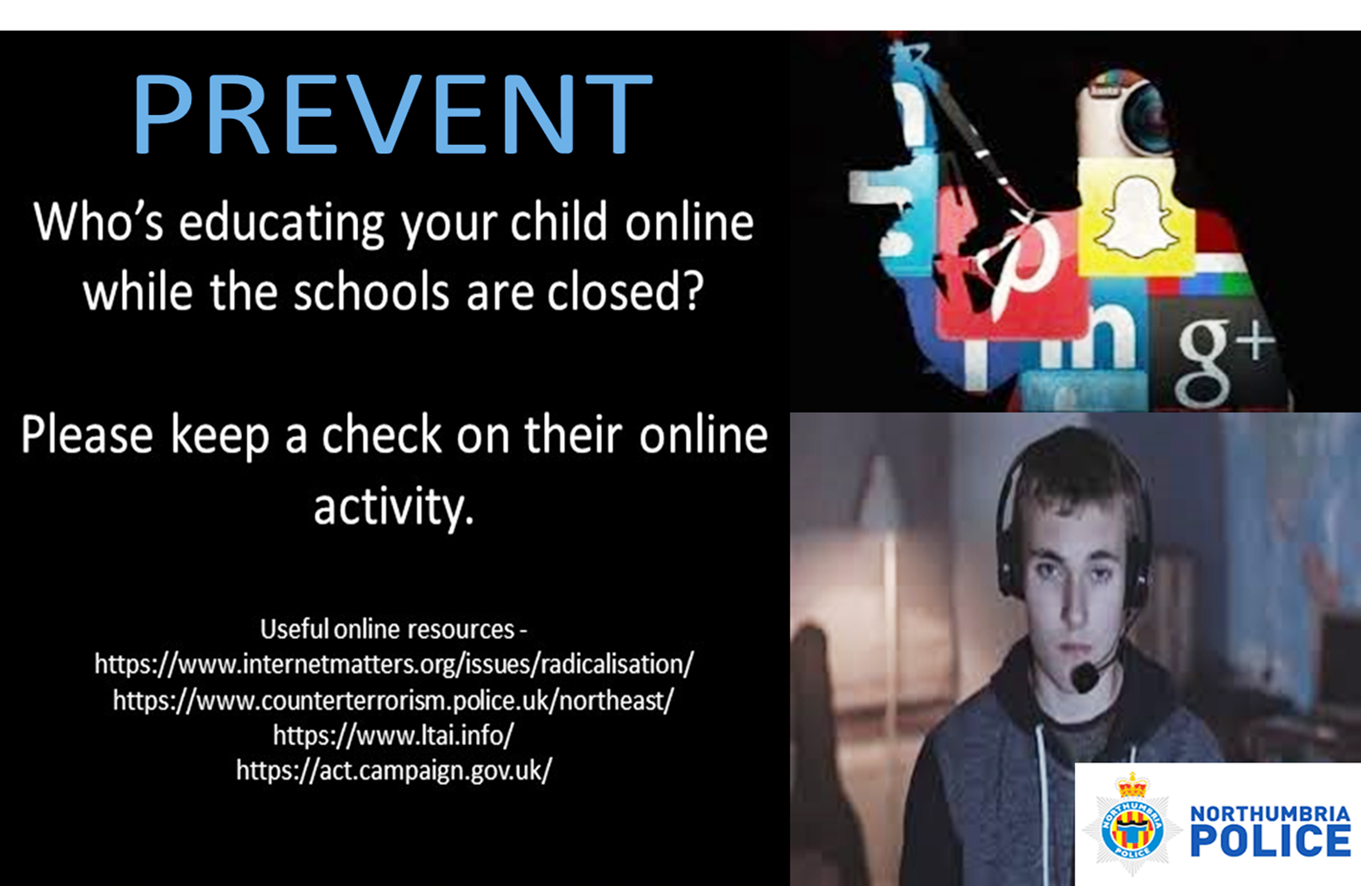 Message for Key Workers
You should only send your child to school if you have to, because your work is critical to the COVID-19 response. If you are able to keep your child at home you should. Do not send your child into school unless you have contacted school to register for this emergency provision. Please use this provision as a very last resort. Parents have to be responsible and respect the guidelines issued nationally. We value your support and honesty.
'Schools are only open for emergency provision for key workers when there is no alternative option, and that parents should keep their children at home if at all possible.' Gavin Williamson, Secretary of State for Education.
Schools Closure Update
As you are aware schools have been asked to close by the Government to reduce the spread of the COVID-19 virus.
Southmoor Academy will therefore be closed to all pupils from Monday 23rd March
The Government has urged that parents should keep their children at home, wherever possible. The fewer children making the journey to school, and the fewer children in educational settings, the lower the risk that the virus can spread and infect vulnerable individuals in wider society.
Schools are being asked to continue to provide care for a limited number of children – children who are vulnerable and children whose parents are critical to the Covid-19 response and cannot be safely cared for at home.
Southmoor will only provide care (9am-3pm) for those pupils whose parents/carers meet the Government criteria and where they cannot be safely cared for at home.
Further information for parents and carers can be found on this page of the government's website.
Government guidelines advise that if it is at all possible for children to be at home, then they should be. If your work is critical to the COVID-19 response, or you work in one of the critical sectors, and you cannot keep your child safe at home, then please contact our main reception at Southmoor on 0191 5949991 before 3.00pm on Friday 20th March 2020.
You can view the above information, which was sent as a letter to parents on 20/03/20 by clicking here.
Pupil Distanced Learning
From Monday 23rd March, and until further notice, Southmoor Academy will be closed to all pupils except our most vulnerable children and children of critical key frontline workers where there is no other available care. All other students will be required to work from home.
Supporting Pupils Learning at Home
To ensure that pupils are supported with their studies as much as possible during this time, work will be available each day on Show My Homework, for all lessons that would usually take place that day.
Learning activities will, where possible, be in line with current learning/topics to ensure consistency and support progress as much as possible. There will be a mix of online and paper-based activities.
To use Show My Homework:
All pupils and parents can see all work set without logging in by going to https://southmoor.showmyhomework.co.uk filtering by year group, and clicking on each subject
There is a Show My Homework app available for parents and pupils to download onto smartphones
Logging in to Show My Homework will allow the work set for individual pupils to be seen more easily, but is not necessary in order to view work set
Pupils can upload work to be marked by teachers and communicate via Show My Homework with teachers about their work if they need to
If you have no access to the internet to view Show My Homework, please phone the school on 0191 5949991 to find out about additional arrangements of further support
Pupils will find it easier to learn if they follow a regular routine. We recommend:
Pupils access Show My Homework every morning
Pupils follow their usual timetable, completing lessons at the time they would usually have them and having a break and lunchtime
Please remember that this is not a school holiday, and pupils are asked to stay at home completing their work during usual school hours of 8:30am to 3:35pm.
Key Online Learning Websites:
MyGCSE Science (Year 10)
Seneca Learning (All students)
Hegarty Maths (All students)
Mathswatch (All students)
Kerboodle (Geography students)
Any changes or further updates will be posted on the school website and communicated via our MyEd App.
You can view the above information, which was sent as a letter to parents on 20/03/20 by clicking here.
Further advice is also available here:-
NHS: https://www.nhs.uk/conditions/coronavirus-covid-19/
GOV: Coronavirus (COVID-19): latest information and advice – GOV.UK
Year 12/13 Progress Evening Cancellation
As a precautionary measure, in response to unprecedented international events linked to the Covid – 19 outbreak, the Year 12/13 Progress evening on Monday 23rd March is cancelled.
For more information and what to do if you have a child in Year 12/13, please click here.
We apologise for any inconvenience this may cause.
Last updated: Wednesday 1st April 2020 10:00am
Social Share