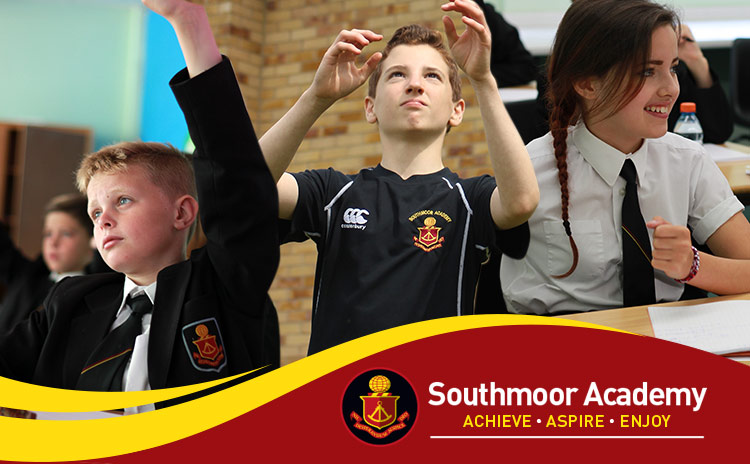 Academic success is at the heart of what we do and our students are supported in this by a curriculum that promotes breadth of study in the early years right up to entry into our Sixth Form and beyond. We have a strong emphasis on core academic subjects that will serve our students well beyond their years at Southmoor and lead them into the best jobs and career opportunities.
Our Academy Trust Curriculum Intent
Academy Trust Curriculum Intent

Our curriculum intent describes the core values we please in every subject and runs as a guiding values throughout all of our teaching. Students are encouraged to learn and understand these values so that they may better understand that school works for them and is in their best interests. By understanding this we hope that students will gain confidence in their learning and ultimately aspire to achieve their full potential.
Our Curriculum Menu
For detailed information on what each subject has to offer at every level of our curriculum, please select from the subject menu.
Our Curriculum Aims
• To create a supportive and caring learning environment that promotes the academic, physical, social and emotional, cultural, moral and spiritual development of all students.
• To provide challenging learning experiences appropriate to the age, ability and aptitude of all students.
• To enable all students to achieve their academic potential and gain qualifications.
• To deliver the requirements of the National Curriculum.
• To enable students to develop the skills and attitudes that motivate them to learn and are necessary for independent learning.
• To enable students to develop lively and inquiring minds so that they question, discuss issues rationally and make informed decisions.
• To promote initiative, creativity and independence across all learning.
• To enable students to use language, number, communication skills and information communication skills.
• To teach students self respect through an understanding and appreciation of their own self worth.
• To teach students to be positive members of a community through respect for and tolerance of its values.
• To enable students to respect, appreciate and acknowledge the achievements and aspirations of others.
• To teach students to respect and tolerate the religions and morals of other races, religious creeds and ways of life.