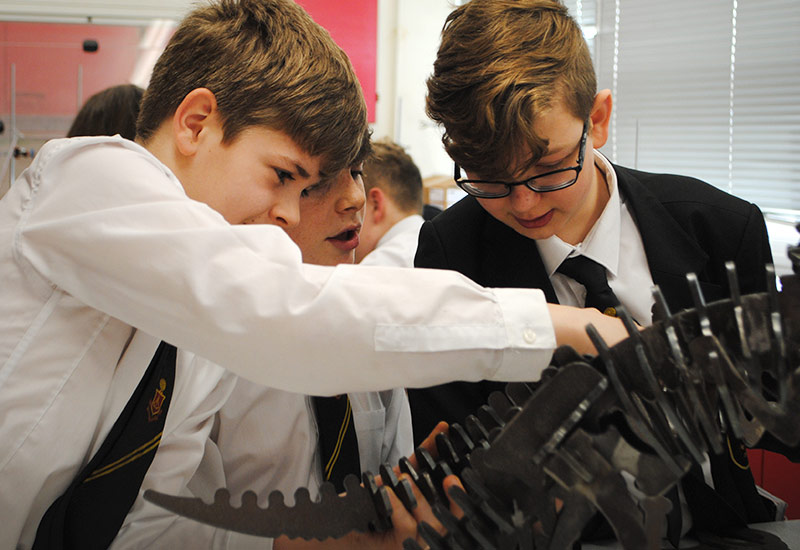 Over the course of the year we arrange a broad range of events for our students aimed at informing them of the different career paths available to them and helping them understand the working world beyond their school years. Below you will find a list of the upcoming events in our CEIAG calendar as well as information about past events we have held.
Careers Fair 2017
In November 2017 we held a Careers Fair to continue the drive to raise aspirations and educate Year 11 students about future careers and employment opportunities. Representatives from a range of industries, providers and services joined us to advise pupils including Liebherr, Jacksons Law, Springboard, Keepmoat, Geek Talent and Tyne and Wear Fire and Rescue.
Nissan Factory Visit
Pupils from Years 7 to 10 have been taking part in visits to local car giant Nissan. The focus of the visits was to promote careers in Science, Technology, Engineering and Maths (STEM). Pupils had a tour of the site and took part in workshops and activities. Thank you to Nissan for welcoming our pupils to see manufacturing in action.
Hospitality Careers Visits
In Novemeber we continued introductions to local careers with a look at the hospitality industry. Students visited The Hilton Garden, Marriott Hotel and Roker Hotel to gain an insight into the different career paths available in these areas. Highlights of the visit included pizza making in the restaurant, testing out mocktails in the bar and turning a hand to room services. Thank you to the staff at these local hotels for hosting our students.
SETA Visits
In December 2017, a group of Year 11 students visited SETA Training to find out about the industry-recognised training they provide for local apprenticeships in both engineering and business disciplines. Students toured SETA's Washington base which is the largest engineering training centre in the North East. They got a close look at the workshops and state-of-the-art equipment that trainees use to practice their skills.
Liebherr Visits
In January we were once again invited to take a group of Year 11 pupils to visit Liebherr Sunderland, a manufacturing plant on the banks of the Wear for maritime cranes and cargo handling equipment. Students were given a tour of the site as well as receiving invaluable advice regarding apprenticeship opportunities. More visits to Liebherr are scheduled for next week.
CCAD Art Careers Visits
Cleveland College of Art & Design was the destination for Sixth Form Photography students participating in a photography workshop. Whilst there, Sixth Former Chloe Ebdon was interviewed and has been given an unconditional offer onto her chosen course! We are establishing strong links between the degree programmes and our Sixth Form which is already paying off.
Cambridge Calls at Southmoor
This week we welcomed students from Cambridge University who participated in discussions with Year 9 and 10 students about what to expect from higher education. The group workshops are designed to raise aspirations and awareness whilst equipping students with the skills and knowledge to enable them to make competitive applications. Students were very interested to hear about life at one of the world's top universities with many questions about life after college and sixth form.
Sixth Form Open Evening
January also saw the best ever turnout for our Sixth Form Open Evening which was a chance for students to think about their future. With universities and higher apprenticeship providers in attendance, guests had plenty of people to talk to. But even better than talking to the professionals, potential sixth formers had the chance to hear from our successful candidates for some of the best Russell Group universities in the country as well as enthusiastic students from current Year 12 and 13.
National Career Week 2018
With aspiration being high on our agenda, we have fully embraced National Careers Week staging a host of events for pupils across the school. There were visitors representing the fields of construction and engineering, health / social care as well as hair and beauty to name but a few. Engagement came in many forms including workshops, assemblies and one-to-one guidance. Year 11 students got a chance to discover more about apprenticeship schemes with tips and specialist support available to make applications.
Year 7 Newcastle University Visit
A group of Year 7 students visited Newcastle University. Although it might seem like a long time before these pupils make a decision on their chosen career paths, it is never too early to start looking at options open to them in the future. Students had the chance to tour the Newcastle campus, learn about university life and get an insight into the types of subjects they could be studying.
Students Visit Sunderland Software City
Year 9 and 10 students were welcomed to Sunderland Software Centre where they met and spoke to a range of digital employers, further education providers and other organisations that have progression opportunities in the ever-growing field of software and digital development. Students took part in interactive workshops and practical demonstrations giving them fantastic insight as to how they could be working as part of Sunderland's digital future.